Articles
All Articles
All Articles

301

Do More Faster

1

Venture Deals

19

Startup Communities

203

Startup Life

41

Startup CEO

2

Startup Boards

29

Startup Opportunities

2

Revolution

4
Filter
Reset All
Newest
Newest

Oldest

Popularity

Random
This recent Inc. article, entitled "The Start of a Company, the End of a Marriage," dives into the correlation between entrepreneurs and failed relationships. Through a series of stories that serve as informal case studies, the effects of stress due to entrepreneurship and operating an early stage business are examined.
One of the relationships profiled in this article is that of Brad Feld and Amy Batchelor, the co-authors of Startup Life.
Guest post by Catherine Compitello
Conversation is the best kind of foreplay. Since leaving my job on Wall St. to start a rooftop farming business I've had lots of conversations with my mentors about what it means to be an entrepreneur and the challenges of running a successful business. My network is one of my most valuable assets. Senses are heightened as an entrepreneur. I find myself thinking through everything. As my plan develops, conversations with my mentors and colleagues help me keep a clear head, be open and flexible, take risks, and navigate challenges
Jane Miller's Sleep Your Way To The Top is like a good friend you reach out to for advice. Or when you need a good laugh about a ridiculous situation at work. At some point we all get caught in weird situations or put our foot in our mouth. We all decide it's time to take risks, to take on new challenges, to learn new skills. How do you play it? How do other people play it? How does Jane play it?
Jane, CEO and founder of JaneKnows, has become the highest-ranking woman at every company she's worked for, including: Pepsi Co, Heinz, and Rudi's Organic Bakery. Sleep Your Way To The Top is her first book and an entertaining how-to for others wanting to make it to their top. Jane asks questions as you navigate your way up, wherever up may be for you: "What's important to you in your career?  What does success mean to you?  What is your top and how in the world do you get there?" Sleep Your Way To The Top is good for any reader but especially suited for those in the early stages of their career that need to ask themselves these very questions.
Step 1? Buy a journal. Then use it as your "What Obviously Works" journal to "build your confidence and be in control." Get to know what you want and what your strengths are by writing them down. And continue to do this throughout your career. Get to know your weaknesses too. Knowing your weaknesses means you can get them to work with you and not against. It can give you the strength to know when to say "this isn't the path for me," as Jane did when she walked away from a career that was the wrong fit for her when she talks about the Myth: You can have it all. This, by the way, happens to be the only myth Jane doesn't discredit. And I agree: it's unfalsifiable. Instead she invites the debate to begin. Or continue, really. Also known as the myth of the work-life balance, this one is hotly debated. And one I'd love to hear more of Jane's thoughts on. Is this myth a mislabeled (as a gender issue) problem with social and economic policy? Do we agree on what it means to lead a successful life? Are we asking ourselves if we are living the kind of life we want to lead? How do you define that?
Keeping a journal is something Jane recommends you adopt early on in your career, so it naturally comes at the beginning of the book. But you can read through the myths in any order you please. And a lot of myths are covered: Networking Is Sucking Up; Leaders Are Born Leaders; Only Extroverts Win In The Corporate World.
As we all know, some of the most unpleasant lessons in life are learned hard and quick. When discussing one of the shorter myths in the book: "TMI is appropriate in an interview," Jane tells an embarrassingly funny story that's quick to the punch. Her writing pulls on her years of success in guiding businesses to deliver a light and funny read with a smart and clear voice.
*Catherine Compitello is an alternative investment marketing specialist turned entrepreneur. She founded The Farm Above, a sustainable rooftop farming business. She recently moved to Boulder, CO from Wall St., she is excited to collaborate with other entrepreneurs in the community.
Guest Post By Eric Klein – Lemnos Labs – (Partner)
I recently finished Startup Life and want to thank Brad and Amy for writing such a bold and emotional book. I've been married for roughly twenty years and was separated for close to a year as my wife and I difficultly learned many of the lessons in this book. If I could go back in time and hand this book to my younger self, it might have saved us much angst. I really appreciated the openness of all the contributors and will be recommending it within the Lemnos Labs founder community.
What struck me about the book was that its lessons might not be absorb-able in one phase of your life. If I went back in time and handed this book to my younger self, would I have been able to hear all the knowledge and lessons it prescribes? I'm pretty sure my friends and psychiatrist told me how to be a better partner while pursuing my dreams of entrepreneurship, I just wasn't completely ready then to absorb those ideas when I was in my twenties.
It feels like there are three life phases you read this book in; each phase bringing more understanding of the book's lessons:
Phase 1 – The young entrepreneur
Malcolm Gladwell repeatedly mentioned the "10,000 hour rule" in Outliers, rightfully highlighting the time it takes to master something new. Young entrepreneurs, and we've all been there, are simultaneously trying to master building businesses and relationships. It's incredibly hard to do one, let alone both, but I think it is even harder to accept guidance and wisdom on these topics at the beginning of the learning curve. Looking back, I can see myself denying so many basic problems at the intersection of my business life and my relationship with my wife, unable to see what is now obvious in terms of balance and commitment. I just wasn't ready to see solutions to problems I barely understood.
I think younger entrepreneurs with less relationship experience reading this book will absorb some of the material, but have fewer reference points to relate to the lessons contained in the book. Hopefully what they have received is a pointer, so to speak, to a great reference on entrepreneurship and relationships that they can return to on a regular basis.
Phase 2 – The entrepreneur in crisis
Sooner or later every relationship enters more troubled waters. The stresses of entrepreneurship only exacerbate the natural tensions of a relationship. So many of the things that were pointed out in Startup Life seem obvious now, but in the apex of my marital challenges, this book would have been a godsend. Or a smack in the head! It is so hard to find consul and wisdom when you reach this point. It's a difficult topic to discuss with anyone, let alone finding a fellow entrepreneur with great relationship skills who wants to talk with you about these personal, sensitive topics. I think Startup Life has maximum value for an entrepreneur in this phase of their lives, because the lessons it contains finally become timely, relevant, and critical.
Phase 3 – The maturing entrepreneur
While entrepreneurs often think of time as their greatest enemy, in terms of experience, it is our friend. As we mature, we finally start to start to notice the warning signs of issues in our businesses and our relationships, why they are happening, and have proven techniques to address our issues. Experience makes us more comfortable and capable in our relationships. I'm finally at the point where I sorta understand what to do to be a good partner! In this phase Startup Life provides great relationships tips and reminders that help you stay on course and reminders of potential problem spots. I'm working hard, as an example, to embrace shorter Qx vacations for my wife and I. In my limited experience with Qx breaks, they really spur creativity and force me to check in with the real world instead of the ten million little issues with my company that I tend to become fixated on over time.
I think this is also the phase where you recommend Startup Life to every entrepreneur you know that is in Phase 1 and 2 in the hopes they avoid your mistakes ;-)
Startup Life is a book you put on the shelf and re-read semi-regularly as you make life's journey. It can't be absorbed in one session and its lessons ripen as time goes by. An entrepreneur learns that you have good days and bad days both in business and in your relationship. Pull this book from the shelf for wisdom as you navigate those highs and lows.
Related articles
Join us to celebrate the launch of Startup Phenomenon and collectively build-up the Denver-Boulder corridor.
When: July 30, 2013, 5:30 – 8:00
Where: Galvanize, 1062 Delaware St, Denver, CO 80204
The Denver-Boulder corridor: At one end is a thriving community of startups, tech companies, and investors, and at the other end is…a thriving community of startups, tech companies, and investors. So why the divide? Each city is doing fine on its own, but together we can turn this region into one of the most dynamic and economically important innovation hubs in the world. Join us for drinks and networking to help us bridge the longest 25 miles in business and look for ways that Denver and Boulder's finance communities can join forces to expand both their collective strength and their individual investment opportunities. We'll have a few brief comments from Jim Dieters, Brad Feld and the Startup Phenomenon team.
Related articles
We're beginning to see an interesting phenomenon occur with the success of Startup Communities. Readers are extrapolating the lessons within the book and are raising some interesting questions about the drivers, best practices and key components of startup communities. Recently, Dan Moore, a local Boulder IT consultant, wrote a blog post questioning the lasting impact the personnel of a former employer had on the local startup community. His blog post raises an interesting question.
How many startups have been birthed as a result of personnel from a former startup?
In his own case, Mr. Moore was an employee of XOR, (Internet technology, Systems, IT) and according to his experience some 23 companies were formed as an off fall of its sale, one of which includes the company he currently works for. This information has spurred the team here at Startup Revolution to wonder if we could put together a data set that would depict the general impact startups have on their communities.
So we decided to begin the process of sourcing information regarding such matters and are now putting together a data set on the long term residual effects of startups; no matter their outcome. Whether they failed or succeeded we want to know the impact startups have.
So we've got a favor to ask…we need you to fill out the form below providing us with important information on the number of companies that were spun off as a result of either the sale or closing up of a former employer.
Simply fill out and submit the form below and we'll start building the data set.
Thanks for all the help!
-The Startup Revolution Team
Guest Post By Mahendra Ramsinghani – The Business of Venture Capital – (Author, Investor, Mentor) 

Preparing your board package is a bit of an art and a science. The sample slide deck below offers a framework for consideration (please see "Notes" section of slides as well). The primary goal for the CEO is to communicate with the board, in adequate detail. Your board needs to hear about your progress (or lack thereof).
Here are some points to consider:
a) Progress metrics: Each startup has different metrics and at the very heart of it, you as CEO / founder need to prioritize these over the next 12 months. These metrics could include adoption, revenues or simply, customer discovery / development milestones. The art form lies in picking the metrics that matter – quite simply, ask yourself – what is the one development that would help the company to be seen as a leader in this space? Can this development help raise the next round of capital at increased valuation? This is not about pandering to investors but knowing what constitutes value creation.
b) Significant developments / changes: Board members need to know of any significant shifts. Fired your CTO? Pivoted to a new market?  Increased burn rate by a factor of two? All of these are important enough that your board needs to know – ideally before the board meeting. At the meeting, these topics are the ones that yield a robust discussion. Remember, a board meeting is not a one-way brain-dump from CEO to board. It is a two-way street and if you do not pause, ask questions or breathe – it will ultimately lead to frustrations. The board is there to help but you have to let them help you.
c) Financials: No matter how cool the product feature set may be, make sure you include financial statements in your board package. These are ideally prepared by your part-time CFO and include your income statement, balance sheet and cash flow statements. For very early stage companies, its best to offer a simple snapshot of
(i) Cash at hand (ii) burn rate and (iii) months before we need additional capital.
Ultimately, remember that a board package is nothing but a prop for communication and discussion. Your goal is to ensure that (a) your board gives you a thoughtful input / feedback on the company' progress (b) knows where you need help and (c) is able to help you along the way.
You can download the original PowerPoint Slideshow Here.
---
I manage and lead all investment activities for Invest-Detroit's First Step Fund, a micro-finance fund that is focused on seed and early stage investments in the region. Since its launch, the Fund has invested in 40+ companies across technology, healthcare and energy sectors.
In 2011, I finished a labor of love – a book titled "The Business of Venture Capital: Insights from Leading Practitioners on the Art of Raising a Fund, Deal Structuring, Value Creation, and Exit Strategies (Wiley Finance). See: http://amzn.com/0470874449
As Mentor-in-Residence at University of Michigan's Office of Tech Transfer , I helped spin-out a Life Science tools start-up, 3D Biomatrix. In 2012, this company was recognized by Wall Street Journal Technology Innovation Awards (chosen among 536 entries).
At the MEDC, I led the efforts for development of two Fund-of-Funds programs that was signed into a legislation and currently deploys $200 million in VC Funds. I serve on the investment committee of two seed funds and on the Board of University of Michigan Social Venture Fund.
Related articles
Guest Post By Andrew Sherman – Jones Day– (Partner)
My latest book, Essays on Governance, was inspired by the events of the past ten years which has placed the discipline of corporate governance under a strategic as well as a regulatory microscope and has shareholders and the markets challenging boards to be accountable and carefully follow best practices which drive informed and objective decision-making.  We have lived through several periods over the last decade when it appeared to many that our financial markets have been on the brink of complete collapse.  And while calm and patient heads prevailed and we have experienced remarkable resiliency, it has not been without significant government intervention in the form of bailout packages and QE1, QE2, and QE3 and extensive legislature reform at the SEC, NYSE, FINRA, NASAA and PCAOB levels.  Dodd-Frank legislation brought us not only greater oversight over the financial services industries, but also greater incentives for "whistle-blowers" to come for to report governance or leadership breakdowns and mandated that public-traded companies include an advisory resolution on their ballots to approve executive compensation, opening up a new and much more transparent "say-on-pay" paradigm in the participation of both
ordinary shareholders and their activist compatriots and proxy advisory firms.
As entrepreneurs and leaders of emerging growth companies, we must pledge to our board and to our shareholders that leadership is about protecting the interests of others ahead of your own.  We must lead by example.  Leadership is about absolute dedication to the legacy of an institution or organization which is more important than the legacy or reputation of any one of its individual mentors.  Leadership is about liberating yourself from conflicts of interests or hidden agendas.  Leadership is about accepting responsibility for the consequences of your decisions, your actions and your inactions.  Leadership is about setting aside your own personal beliefs in favor of the mission and values of the organization, though it helps if the two are aligned.  Leadership requires those placed in a position to govern others to walk and talk the traits of integrity, modesty and self-efficacy, transparency, flexibility, emotional intelligence, empathy, confidence and decisiveness, accountability and patience balanced with a sense of urgency.  Leaders must provide a sense of calm in times of crisis and inspire and motivate teams to accomplish organizational objectives.  Leaders must be clear and concise communicators.  As Colin Powell once said "Great leaders are almost always great simplifiers, who can cut through argument, debate, doubt (whining, rhetoric and turfmanship) to offer a solution everyone can understand."
Whether you as the leader of your own company warmly embrace or actively resist principles of good governance, you may soon have no choice.  Too many trends are converging to force directors and leaders to be accountable to the stakeholders that they govern.  The transparence and interconnectivity of the social media, the rapid increase of shareholder activism groups and lawsuits, the new whistleblowing rules under Dodd-Frank, the significant expansion of the staffs and budgets of federal and state regulatory and enforcement agencies, the era of compliance in an attempt to combat fraud and distrust, are all driving forces which will ultimately create life under the near-perfect microscope and governance in the nearly-clear fishbowl.  The passage of new laws, the significant upticks in shareholder activism and the robust activity by government regulators have ushered in the need for a new era of transparency and effective governance.
Board composition must include the right mix of skills, industry experience, market knowledge, diversity and battle scars.  The board
must be thick-skinned enough to withstand criticism and scrutiny, but its processes, deliberations and decision-making must be transparent enough to be subject to periodic evaluation and healthy debate.  The key element of this delicate balance is alignment.  Board skills must be aligned with strategic plans, board composition must be aligned with market demographics and consumer patterns, board interests must be aligned with stakeholder value and board commitments must be aligned with the fulfillment of fiduciary duties.  Shared vision, shared values, shared goals and shared rewards are the best ways to close the gap between those who lead and those who are lead.
Risk assessment, management and mitigation has been elevated to one of governance's top priorities for both emerging growth and more established companies.  Risks come in a wide variety of shapes and sizes and the sources vary from Mother Nature to shareholder activists to computer hackers to disgruntled employees to volatile markets to fierce competitors to hyper-active regulators to rogue financial traders to social media rabble-rousers to political turmoil and sovereign debt crisis, to nuclear accidents to civil discord to just plain old-fashioned negligence, pour judgment and human error.  Unforeseen risk is all around us and the board must be at the forefront of predicting risk, measuring risk, preventing risk and mitigating the consequences of risk.  Unexpected surprises and getting blindsided are no longer acceptable explanations or excuses when significant shareholder value is at stake.
Boards must proactively anticipate risks in many disciplines, not passively react to them when problems arise, or even worse, hide under the mahogany table when challenges surface.  Contingency planning (having an evacuation plan, a fire drill map, the ability to pivot, a "Plan B" ready to go, etc.) is all part of strong and effective governance.  Board members need to seek out the advice of outside legal and accounting professionals to craft these plans, as well as from certified risk managers, such as the 21,000 financial and operational risk professionals who are members of the Global Association of Risk Professionals (GARP), based in Jersey City, New Jersey, (www.garp.com).  The bottom line is that if today's board member is going to be held accountable (and potentially personally liable) when and if the proverbial "poop" hits the fan, then you better be trained to be pretty handy with a shovel.
As we all know, great companies come and go – the board and executives primary role is to keep them great and well-managed for a sustainable long-term future.  IBM celebrated its 100th year of existence on the shoulders of great leaders and the vision and ability to transform and evolve its mission and business model.  The only market condition which remains certain is change itself.  Board members must keep their eyes on the road and their ears close to the ground to anticipate change and re-direct the ship accordingly.  The root of the word "director" is in the terms "direct" and "direction" and it must be the board at the helm of corporate strategic navigation.
To navigate properly, like the Cheshire Cat, first ask "In what direction do we want to go and why?  Then ask, "how ready are we to truly begin and complete this journey?"  Applying principles of intellectual honesty and integrity in identifying challenges in organizational capacity and readiness.  Then ask, "what concrete steps need to be taken and what responses will we need to complete the journey?  An empty canteen is as about as valuable as forgetting to pack it altogether.  Then ask, "how do we keep momentum going during the journey itself?"  Many companies stall, pull into a rest stop and never get back on the highway or simply forget to follow a roadmap as their mission derails and their companies unravel.  Forward progress is critical.  Finally, inasmuch as life is a journey, not a destination, ask "how can we as a board set new goals, new metrics and target new destinations so that our company continues to evolve, grow and drive shareholder value?"  As leaders, if you can be committed to asking these five questions on a perpetual basis, the road to strong governance will be well-paved.
Andrew Sherman focuses his practice on issues affecting business growth for companies at all stages, including developing strategies to leverage intellectual property and technology assets, as well as international corporate transactional and franchising matters.
He has served as a legal and strategic advisor to dozens of Fortune500 companies and hundreds of emerging growth companies. He has represented U.S. and international clients from early stage, rapidly growing start-ups, to closely held franchisors and middle market companies, to multibillion dollar international conglomerates. He also counsels on issues such as franchising, licensing, joint ventures, strategic alliances, capital formation, distribution channels, technology development, and mergers and acquisitions.
Andrew has written 17 books on the legal and strategic aspects of business growth, franchising, capital formation, and the leveraging of intellectual property. He also has published many articles on similar topics and is a frequent keynote speaker at business conferences, seminars, and webinars. He has appeared as a guest commentator on CNN, NPR, and CBS News Radio, among others, and has been interviewed on legal topics by The Wall Street Journal,USA Today, Forbes, U.S. News & World Report, and other publications.
Andrew serves as an adjunct professor in the M.B.A. programs at the University of Maryland and Georgetown University and is a multiple recipient of the University of Maryland at College Park's Krowe Excellence in Teaching Award.
Guest Post By Jerry Colonna – The Monster in Your Head ( Professional Coach)
The phone rang at the appointed hour. My client, a software company CEO, was calling for his regular session. I picked up the phone:
"Hello"
"Why the hell does my board act like that?"
"Good morning, James," I answered and we both laughed.
We talked through the upcoming financing. Some of the investors—folks who came into the company only in their last round—were already jockeying around terms and prices of the upcoming round. Some of the other directors—investors who'd been with the company since the beginning—were also beginning to draw a hard line around terms that they would find acceptable.
In a sense, while they were all directors, as investors they were beginning to play a game of chicken with the company's financing—each holding fast to a position deemed best for the shareholders they represent and yet, as the negotiations would tick on, the company's ability to actually raise the needed funds could be jeopardized.
After the session, I asked him he if I could quote him.
"Sure," he wrote, "just let me know if I ever end up there with an actual video recording of me calling [the board member] a 'fuckhead' – it's not that I'd be bothered by that, it's just that I'd want to make sure I sent the link to all my friends."
A year ago I was sitting in the office of the CEO of a company on whose board I served. The recently elected chair and the CEO were screaming at each other and, as usual, I found myself trying to mediate.
"What you don't understand," said the chair rising from his chair and trying to tower over the seated CEO, "is that you're here," and he held out his right hand, palm down, "and the board is here," and he moved his left hand on top of the right, again palm down, "and I'm here," and he placed his right hand over the left.
My client's question was spot on: Why does this happen? What is it that makes the relationship between board members, investors, and management so tricky? And, even when you remove the notion of director as investor (or investor representative) you can still end up with troubled relations.
The board/management relationship is tricky, complex, and nuanced. There are few structures within traditional businesses that are quite like it. Most businesses, indeed most organizations, are built on some variation of a command and control structure. Because of their inherent hierarchical nature, it's often clear who's in charge, who makes the decisions, and who's ultimately responsible.
Even in enlightened business, as people like Warren Bennis have pointed out, where the power and decision making reflects not the pyramid of classic command and control but the inverted pyramid of the ways in which information, and therefore, accountability should flow, there's relative clarity.
But when it comes to boards of directors, confusion is often the norm and, as a result, there's often frustration and anger. For example, does the CEO work for the board of directors or the company? Does the Board "work" for the company? Who holds individual board members accountable for the actions? And what is the relationship between board and staff members?
And underlying all of this is the responsibility to represent the shareholders.
I've served on dozens of boards of directors; this includes public and private companies, for profit businesses and not-for-profit organizations and I think the core troubles stem from a misunderstanding of the key elements of the roles.
Directors aren't quite like any other management position in an organization. They have power but often times lack the information to wield that power as well as managers. They have perspective—often times significantly more experience than senior management but, by the nature of their responsibility, they are disconnected from the day-to-day operations.
Directors need to remember they have a delicate balancing act of influencing without dictating, and engaging and sharing their experience and perspective by virtue of their gravitas as much as a result of their power.
Management, too, needs to remember that the task of being a director or a trustee is unlike any other job one has ever had. There's an explicit accountability that goes along with the job and that fact, combined with the implicit lack of information, can cause most folks to feel terribly anxious and to act in awful ways.
Everyone on both sides of that divide need to take a step back, see things from the other view, and work towards making the board as functional as possible.
As my friends and colleagues are tired of hearing me say, I've never seen a board guarantee an organization's success but I have seen it guarantee its failure.
Related articles
Guest Post By Tom Nastas – Scaling up Innovation – (VC, Mentor, Blogger)
Tom Nastas a 25 year VC veteran in US, int'l and emerging markets wrote a series for Startup Rev on the 'spark' which sparked the startup of Russia and how the development of start-up communities in emerging markets are shaped much more by the cultures of risk vs. what we investors and entrepreneurs face in the USA.  An interesting read, below are the individual posts and content for each one.
Subjects in this post include:
1.)   Drive Growth and Innovation in the Supply Chain
2.)   Sidestep the Obstacles that Impede Scaling Up—Investor Attitudes to Risk & Failure
3.)   Controversy of Clonentrepreneurship: Cloning the Idea or Hatching a Start-Up?
4.)   The Spread of Clonentrepreneurship
Last time in Part II, Cultures of Risk—Financing the Startup of Start-up Communities, I discussed:
1.)   The Cultural Divide:  What Investors 'Buy'
2.)   What Investors Fear
3.)   The Culture of Venture Capital:  Friend or Foe?
Read Part II
Read Part I
Read Introduction (to the series)
The 'take-away from Part II. Local investors in the emerging markets 'buy' risk by investing in the known and understandable. This explains why they finance business models of fast moving consumer goods, food and beverage, supermarkets, telecoms, light manufacturing and automotive components as examples.  Investors finance such business models even at the seed and early stage of company development.
The reason investors invest as they do; markets and customers are a 100% guarantee in these sectors, even in greenfield projects, with the risks of investment in execution, not the risks of market existence and the uncertainties if the tech will work, will customers come and pay.
Clones copied, localized and pasted into emerging economies impact the DNA of investors to risk since many generate revenue quickly—overcoming the fears that investors have for early stage tech.  But impacting the behavior of investors to risk is not the only contribution of clones to the start-up of start-up communities.
Drive Growth and Innovation in the Supply Chain
Although clones look the same on the surface, one country to the next, there are multiple differences in execution.  Many clones require supply chain partners for them to work, yet many of these companies do not exist in emerging countries.  While outsourcing from delivery to call centers are common services for hire in the US and Europe, clones frequently build them themselves, in what I call 'self-sourcing.'  In other cases, new supply chain entrepreneurs emerge to offer the services to make clones work.
Let's examine three such innovations.
Logistics and delivery
Lack of effective and efficient delivery companies forced Ozon, the Russian clone of Amazon, to organize its own logistics operation for door-to-door delivery of goods to their customers in Moscow and St Petersburg plus the delivery to more than 2,000 pick-up points across the Russia Federation.  With this asset in place, Ozon offers delivery services to others as the market for online businesses grows in Russia.  Like Ozon, the discount shopping club KupiVIP delivers product with its self-owned fleet of 100 vans; it leases extra vans when capacity is short. Yes FedEx and DHL exist in Russia, but the cost for local delivery approaches $100, too expensive for a book costing $15 or a $40 pair of shoes.
Getting paid
65% of all transactions in Russia are paid for in cash.  Almost 90% of Ozon revenues ($300 million) are cash.  ATM's that accept cash for payment are widely used in Russia, made by QIWI, a Russian innovator.  But a new complication develops in a cash economy. In Russia for example, customers regularly inspect the goods to confirm that what was ordered is actually in the box. 25% of all online orders are rejected by the buyer with no money trading hands in cash transactions, or a credit has to be made if payment was made through a QIWI terminal, another snag that required innovation for e-commerce clones to work in Russia (and other emerging market economies based on cash vs. credit or debit card transactions).
Call centers required to reassure online buyers
50% of Ctrip (Chinese online travel company) customers purchase tickets by phone as do large numbers of Russian customers of Ostrovok, a Russian online travel company.  Both Ctrip and Ostrovok operate self-owned call centers staffed with real live persons to reassure customers that their on-line orders are placed, accurate and confirmed.
Clearly what emerging markets lack in the sophistication of online shopping in the United States creates a sea of supply chain opportunities for more start-ups to service clones in the developing world.
Sidestep the Obstacles that Impede Scaling Up—Investor Attitudes to Risk & Failure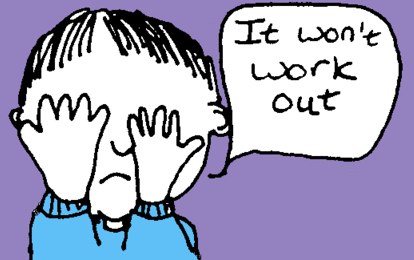 It's great to talk about the need for failure, how great business models evolve from failed attempts and the need to encourage more failure. The question is who pays for this learning, and how recover from it? Investors not only in Russia, but other emerging markets label a failed entrepreneur a loser for life, never to raise money again with failure an embarrassment that frequently spills onto her or his family; such shame creates an environment where entrepreneurship is discouraged as a career path vs. a 'safe' job, e.g., working for Government, a state-owned enterprise or a multinational corporation.
Even more troublesome is another deep seated cultural attitude to failure in emerging market countries.
Failure = Fraud: we know this is not true, but that's the verdict when entrepreneurs fail in emerging markets.
The attitude that failure equals fraud stems from 'who pays for the cost of failure' as failure in emerging markets means the promoter, the entrepreneur, and the team did not possess the competencies to overcome the challenges of development, or did not really understand all the requirements needed (or did not do all) for success. Yet we know that experimentation, trial and error, failure and pivoting are necessary to define the requirements for business model creation, making the path to progress unlikely in developing countries.
In the former Soviet republics, East Europe too, entrepreneurs and scientists have financial responsibility to repay money under failure; prosecution and jail-time are real possibilities.  Even more chilling are the threats of investors to entrepreneurs "You lost my money (equity), now you must pay the money back (i.e., the investment is equity if achieve success, debt if the venture fails!)."
The fears of investors, attitudes to failure and who pays for failure create a culture that makes early stage venture capital dicey in the emerging markets.  Such behavior discourages risk taking and incentivizes entrepreneurial commitments to proven business models for proven markets like fast moving consumer goods, retailing, wholesaling, telecoms, and yes, clones from Clonentrepreneurs.
But given the successes of clones to start an entrepreneurial revolution in a country, they are not without their critics.
The Controversy of Clonentrepreneurship: Cloning the Idea or Hatching a Start-Up?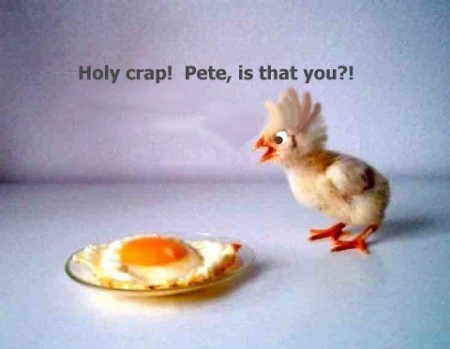 Given the successes of clones to satisfy the appetites of domestic customers and local money, they have their critics when taken to the extreme.  Sarah Lacywrote an upbeat article in TechCrunch aboutcopy-cat business models in China yet almost three years later levied stinging criticism at the Samwer Brotherswith their rip-off of Fab.com called Bamarang.
Their newest clone for the Middle East Lazada is especially bold: I thought I had inadvertently landed on Amazon, that's how closely Lazada resembles it.
Even Union Square venture capitalist and blogger Fred Wilson jumped into the frying pan with his opt on cloning start-ups.
Condemnation aside, one can't argue with the quick and profitable financial successes of cloning.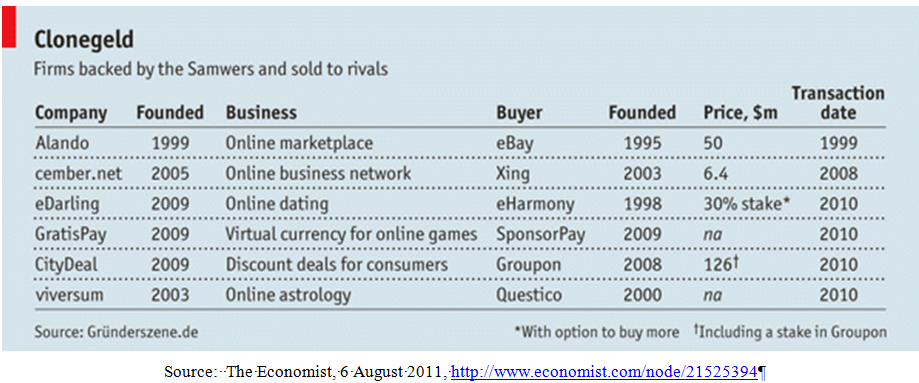 Controversy intensifies when founders clone not just the idea, but every pixel of the start-up to make the clone an almost exact duplicate of the original as the Samwer Brothers did.
In Russia there are multiple groups creating and financing clones.  One of the most aggressive is Fast Lane Ventures which cloned Pinterest (PinMe), Quora (OdinOvet), Eventbrite (Eventmag), Airbnb (RentHome.ru) to name a few; their Zappos clone Sapato was acquired in 1Q2012, 18 months after launch for an approximately 2x return for investors including Fast Lane (plus Intel Capital, eVenture Capital, Kinnevik and Direct Group too).  
The Spread of Clonentrepreneurship
Clonentrepreneurship is sweeping not only Russia, but all of Planet Earth.

Cloning has become a trusted way for more entrepreneurs to raise more money from more investors, thereby financing the future of their start-up communities, not only in the emerging world, but developed countries too as the explosion of car sharing clones demonstrates.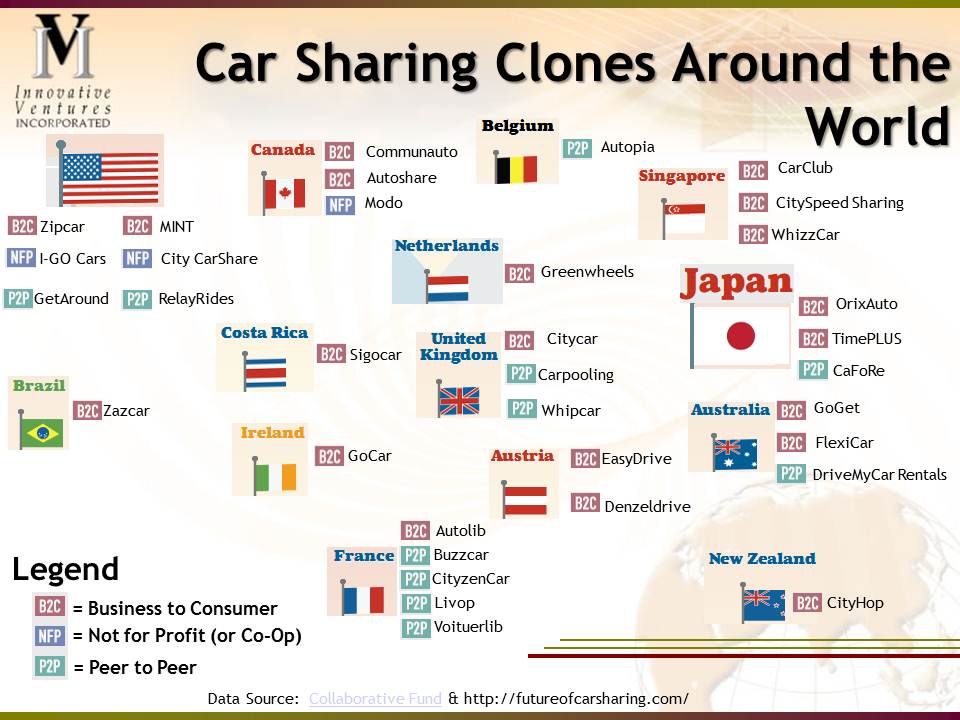 Zipcar was one of the first to execute Internet business models for the sharing of cars.  Zipcar was not the innovator, but the imitator with Vancouver's co-op called Modooperating for more than 15 years and the catalyst that helped communities and non-profits get car sharing started in several continents.  While it may not have started in the Internet space, Modo was one of the first to institutionalize collaborative sharing in the community.
So what is really being cloned, who is cloning what and to whom?
Is it car sharing or the collaboratively sharing of underused assets and transforming them into new business opportunities? If the later, clonentrepreneurs are hard at work around the world creating the next set of companies in the sharing space to take advantage of this social movement as these examples demonstrate:
ParkAtMyHouse.com—shared parking spaces
SkillShare.com & TaskRabbit.com—sharing of skills and chores
Murfie.com & Swap.com—collaboratively sharing of DVDs, books & video games
Snapgoods.com & Neighborhoods.net—sharing of 'stuff'
I-Ella.com & Thredup.com—sharing of clothes & wearables
Sharedearth.com & Yardshare.com—the sharing of land for gardeners & land owners with capacity
Freecycle.com & ILoveFreegle.org—sharing of 'stuff' people no longer want/need
Given the contributions of clones to spark the startup of start-up communities, are they a panacea to growth? Do alternatives exist in the quest for growth? And what can actors in the start-up community do to impact investor DNA for more seed and early stage investment?
For Next Time—Part IV: The Quest for Growth
In Part IV, subjects I'll discuss:
1.)   Clonentrepreneurship or Alternative Paths to the Start-up of Start-up Communities?
2.)   Change the Culture and Amazing Things Happen
Comments, opinions and questions are welcome here or send directly to me atTom@IVIpe.com
Be well and be lucky.
Tom Nastas
Tom Nastas a 25 year VC veteran in US, int'l and emerging markets wrote a series for Startup Rev on the 'spark' which sparked the startup of Russia and how the development of start-up communities in emerging markets are shaped much more by the cultures of risk vs. what we investors and entrepreneurs face in the USA.  An interesting read, below are the individual posts and content for each one.
What are the elements of a start-up community?  What can you do to startup a start-up community in your city, or help it do more—faster?
Venture investor Brad Feld (Foundry Group, Boulder, Colorado, co-founder of Tech Stars, blogger Feld Thoughts) writes about these subjects in his other blog StartUp Communities with his new book titled 'Startup Communities: Building an Entrepreneurial Ecosystem in Your City.
If you don't know Brad, he was and remains the protagonist and instigator that transformed Boulder from a sleepy Rocky Mountain hippie town into one of the most vibrant entrepreneurial tech start-up communities in the United States.  It is his individual contributions to this success that makes Brad's advice sought by investors, government policy makers and entrepreneurs from around the world.
Recently Brad accepted my offer—I contribute a post on the startup of Russia to StartUp Communities.  As I started writing, one subject led to another, with the result too much for one individual post.  Over the next few weeks I'll upload the content as a series of posts for you:  the investor, the entrepreneur, the Government policy maker, staff of international development finance institutions.
In this series I answer five questions:
1.)   What is the 'spark' that ignited the start-up of Russia?
2.)   How does the 'start-up' of startup communities differ—emerging markets vs. developed countries?
3.)   Why is the US entrepreneurial model of experimentation, trial and error and pivoting a death sentence for entrepreneurs in the emerging markets?
4.)   How does the culture of risk and failure in emerging markets impact investor DNA—what they finance and what they won't?
5.)   What is Clonentrepreneurship, where is it spreading from and to, and why is it a model for more—innovation, startups, and venture investment?
There is much happening in Russian cities like St Petersburg and Novosibirsk as two regional hubs of innovation and entrepreneurship.  Even so, I'm confining my discussion to Moscow since what we are seeing in the Russia capital is being replicated in other cities in the Russia Federation, only to a lesser degree.
Here's a preview of the topics in each post.
PART I: THE START-UP OF RUSSIA
First—Three Definitions
The Russia Tech Scene
Growth in Russia
What Changed for Growth to Emerge
The Spark that Ignited the Start-up of Russia
PART II: THE CULTURES OF RISK
The Cultural Divide:  What Investors 'Buy'
What Investors Fear
The Culture of Venture Capital:  Friend or Foe?
PART III: THE POWER OF CLONES
Growth and Innovation in the Supply Chain
Sidestep the Obstacles that Impede Scaling Up
The Controversy of Clonentrepreneurship: Cloning the Idea or Hatching a Start Up?
The Spread of Clonentrepreneurship
PART IV:  THE QUEST FOR GROWTH
Clonentrepreneurship or Alternative Paths to the Start-up of Start-up Communities?
Change the Culture to Make Amazing Things Happen
PART V:  SCALING UP INVESTMENT—FINANCE THE STARTUP OF START-UP COMMUNITIES
In this final post to the series I answer the question:  "What are the small but meaningful steps you can take to impact the culture to change the culture for more investment, entrepreneurship and innovation?"
For Entrepreneurs—What are You Selling to Investors?
For Investors—Let's Be Realistic
For Governments/Development Finance Institutions—Atypical Leadership Needed
  Concluding Remarks
My Next Blog Series—Mobilize Local Capital to Finance Your Dreams
Links: Evolution of Runet (Russia Internet) & the Russia Tech Scene
I hope that these subjects will help you to 'Scale Up,' more entrepreneurship, more investment and more tech start-ups in your country, with Russia as one experience to learn from.
How might this happen you ask?
Frequently a mismatch exists in the business models that entrepreneurs launch in the emerging markets and what local investors finance.  Struggling to raise money, entrepreneurs label capital as risk adverse with investors blind to potential, seeking guarantees and sure things.  Investors respond that entrepreneurs of venture stage companies fail to transform potential into paying customers fast enough and in the volumes needed for the business to scale.  Add in their need to generate a rate of financial return required for their own survival, and it's logical why local investors in the emerging world finance expansion stage companies.
This conflict spills into the public stage with Governments called to action.  They conceive and invest taxpayer money to catalyze an early stage tech venture capital industry to fill market voids.
What happens next is perplexing to the creators of these investment schemes.
These new funds have a mandate to invest in venture stage tech companies, but they behave differently in execution. They invest in tech, but at the growth stage of company development, not at the startup stage.
But what if seed and early stage business models exist with the revenue growth characteristics of expansion-stage companies?  If such business models do exist, what are they? Can they impact the DNA of local investors to risk and catalyze investment at the earliest stages of company formation?  And can they spark the start-up of a startup community? While such business models seem to be an illusion and counterintuitive to the natural evolution of market development, I explain in this series that such models do in fact exist in Russia—& beyond.
Subjects I discuss in Part I:
1.)   First—Three Definitions
2.)   The Russia Tech Scene
3.)   Growth in Russia
4.)   What Changed for Growth to Emerge
5.)   The Spark that Ignited the Start-up of Russia
Reactions & opinions welcome in the comments box or send directly to me atTom@IVIpe.com.
Be well and be lucky.