Articles
All Articles
All Articles

296

Do More Faster

1

Venture Deals

19

Startup Communities

199

Startup Life

41

Startup CEO

2

Startup Boards

28

Startup Opportunities

2

Revolution

4
Filter
Reset All
Newest
Newest

Oldest

Popularity

Random
Brad Feld, a Managing Director at Foundry Group and Co-founder of Techstars, speaks prolifically about Boulder, the Boulder community, and how Boulder has come to be an international renown startup community.
What many do not know is that Boulder has sister startup communities in Denver, Fort Collins, and Colorado Springs – the four innovation hubs of Colorado.
In this interview with ID8, Brad talks about the entrepreneurial growth that Denver has been experiencing in the last few years. Among the topics covered are Boulder's relationship with Denver as well as what Denver needs to do to take their startup community to the next level.
Source: http://www.entrepreneurship.org/en/ID8/Denver/Drivers/Brad-Feld-on-Denver.aspx
In early February, Seth Levine, Managing Director at Foundry Group, talked through the Boulder Thesis with a group in Minneapolis. The segment includes an interview with CEO Clay Collins and his perspective on startup communities.
Find a write-up and some video on the event here: http://tech.mn/news/2014/02/09/video-seth-levine-on-startup-communities/
This post originally appeared on Will Price's blog. Find it here.
In a world of high-speed data and voice networks, web-enabled applications, and a global talent pool, does geography matter?
Will technology break down traditional industry clusters and distribute innovation, wealth, and opportunity across an increasingly flat world?
As a resident in the Valley, to me it is an important question.
Should company founders leverage the benefits of operating in a high-tech cluster and pay the cost premium of doing business here, or should they leverage the benefits of enabling technologies and remain in lower cost geographies, while working to recreate clusters?
The work of Michael Porter helps think through the issues. In his HBR article, "Clusters and the New Economics of Competition," he lays out a convincing argument for the long-term viability of clusters.
He defines clusters as,
"geographic concentrations of interconnected companies and institutions in a particular field. Clusters encompass an array of linked industries and other entities important to competition. They include, for example, suppliers of specialized inputs such as components, machinery, and services, and providers of specialized infrastructure."
His core thesis is that advantage in the global economy lies, ironically, increasingly in local things – knowledge, relationships, and motivation.
Traditionally, competition centered on input-cost advantages – natural and human resources. Today, however, competition rests more on the productive use of inputs, which requires continual innovation. He writes, "modern competition depends on productivity, not on access to inputs or the scale of individual enterprises."
He defines the following characteristics of a cluster that accelerate productivity:
sourcing of information, technology, talent
coordinating with related companies
measuring and motivating improvement
better access to employees and suppliers
access to institutions and public goods (venture firms, lawyers, universities)
complimentarities
co-optition, cluster promote both competition and cooperation
Clusters also directly support new business formation. Porter argues that working in a cluster allows individuals to more easily identify gaps in the current market offerings, enables efficient access to talent, institutions, partners, etc, and a home-grown exit market (i.e. established members of the cluster are the likely acquirer).
The most important insight for me is that the modern economy competes on innovation and that operating within a cluster shortens the cycle time to identifying, resourcing, and realizing areas of need and opportunity.
Michael Porter's thoughtful analysis helps me better understand why the Bay Area "cost premium" is well worth it. Market cap is a function of innovation and growth, and innovation is a function of access to ideas, talent, and supporting resources that eliminate frictions and catalyze connections and progress.
Ironically, in an increasingly globalized economy the Valley is gaining not waning in prominence. The valley takes ~40% of total US VC, with CA taking well over 50%.
What about people, however, who are committed to building companies outside of the Bay Area? Given Porter's work on clusters, it is clear that people outside of a major cluster must work incredibly hard to overcome the evident disadvantage of geography.
Fortunately, a real world example of kickstarting a cluster is underway: Bend, OR. Steve Blank's recent posts on Bend highlight the work of Dino Vendetti, a former Bay Partners GP, who moved up to Bend. The most recent post,Engineering a Regional Tech Cluster, summarizes Dino's strategy:
Encourage entrepreneurial density
Leverage the local university
Lobby for direct flights to major markets
Develop local venture capital sources
Invest in connection via local entrepreneur events and start-up schools
Harness local business community support
Dino, and other cluster pioneers, like the Foundry Group in Boulder and FirstMark in NYC, are clearly thinking holistically about how clusters take shape and what dependencies are required for them to take hold.
Will the valley's choke hold on the technology industry continue?
Or, will the Valley's rising costs, plus collaboration technology improvements, and cluster-based business-government initiatives (ex. Bend) see talent migrate to new clusters and geographies?
Please comment below and share your thoughts. It's an important topic.
Global Entrepreneurs Congress: Building Ecosystems for High Growth Firms
When: Tues, March 19th, 2013 @ 9am – 6pm
Where: Tenda – Lagoon (Av. Borges de Medeiros, 1424. Rio de Janeiro), Brazil.
Description: At the Plenary Summit of the GEC, thinkers, entrepreneurship experts and leaders from economies around the world will discuss innovative approaches to promoting an environment conducive to helping entrepreneurs start and grow companies. The globalization of the startup revolution offers new insights from different parts of the world about building entrepreneurial communities, creating smart startup cities, developing new models of experiential education, financing for growth, and how to scale fast.
    Register
21212 Investor Day
When: Tues, March 19th, 2013 @ 7:30-10:00pm
Where: Rio De Janeiro, Brazil
Description: 21212 Digital Accelerator is a mentorship-driven seed stage accelerator program located in Rio (21) and NY (212). Our 4 month long program is concentrated on building successful companies focused on the exploding digital market in Brazil.
       Register: N/A
Global Entrepreneurs Congress: Day 1
When: Wed, March 20th, 2013 @ 9:00-12:00pm
Where: Av. Borges de Medeiros 1424, Miranda, Rio de Janeiro
Description: Some of the greatest entrepreneurs in the world take the stage to tell their stories of life in just 20 minutes, giving special emphasis to the days that have completely changed their careers as entrepreneurs. The Day1 is an unforgettable and breathtaking experience!
Read More
Global Entrepreneurs Congress: Day 3 Program
When: Wed March 20th, 2013 @2:00pm-5:00pm
Where: Av. Borges de Medeiros 1424, Miranda, Rio de Janeiro
Description: Grandes ideias com uma causa comum: tornar o mundo um lugar melhor! Empreendedores de visão que enxergaram seu potencial transformador na sociedade e fizeram acontecer. Sonhadores e visionários, eles mostram o impacto de se empreender com propósito e paixão.
Read More
Related articles
Guest Post By Anthony Reinhart – Communitech – (Writer)
It wasn't a long time, but it was certainly a good time when Brad Feld dropped by the Communitech Hub Thursday.
Feld, the 47-year-old Foundry Group managing director, TechStars co-founder, author, marathoner and all-around good guy from Boulder, Colo., was on his first visit to Waterloo Region.
Over about six hours at the Communitech Hub, he toured the space, met entrepreneurs, spoke about how to build a great startup community and helped judge a sold-out Startup Smackdown before returning to Toronto for an early-morning flight out.
Feld left us with much to mull over and plenty to be proud about, which I'll expand on here in due course. For now, I'll leave you with what he told me at the end of a long day.
Q – So, what did you think of your day here?
A – I thought Communitech was awesome. I had a great day here.
I didn't really know what to expect because I hadn't been to Waterloo before, and I thought the community was extremely vibrant.
There's a huge amount of people who are working on the right kinds of things, and the energy level is off the charts, which is really, really fun to see.
Q – Did anything in particular stand out from what you usually see in startup communities?
 A – I think the concentration of all of the different activities, including the accelerator, the university incubators, co-working space, event space, a bunch of entrepreneurs, the community space, is very powerful.
You see it in some other places, and it's starting to appear in a more structured way in Chicago at 1871, or in D.C. at 1776, those two buildings. But this is a really mature example of it; it feels really built-out and not just well-organized, but extremely well-run.
It was nice to see, because I think there are a lot of people who aspire to have this at the core of their startup community, but it's very hard to do, and it's clear that this has been a lot of hard work over a number of years.
Q – So if you got home and (your wife) Amy asked, 'How was Waterloo?', what would you say?)
A – I'd say I had a great time.
I would tell her that I spent the entire time inside one building, so I didn't really see Waterloo, but I saw Communitech, and I thought it was really cool.
Related articles
Guest Post By Tom Nastas – Scaling up Innovation – (VC, Mentor, Blogger)
Tom Nastas a 25 year VC veteran in US, int'l and emerging markets wrote a series for Startup Rev on the 'spark' which sparked the startup of Russia and how the development of start-up communities in emerging markets are shaped much more by the cultures of risk vs. what we investors and entrepreneurs face in the USA. An interesting read, below are the individual posts and content for each one.
Last time I introduced the questions as topics for answers in this five part post series:
1.)   What is the 'spark' that ignites the startup of start-up communities?
2.)   How does the 'start-up' of startup communities differ—emerging markets vs. developed countries?
3.)   Why is the US entrepreneurial model of experimentation, trial and error and pivoting a death sentence for entrepreneurs in the emerging markets? And what you can do about it.
4.)   How does the culture of risk and failure in emerging markets impact investor DNA—what they finance and what they won't
5.)   What is Clonentrepreneurship, where is it spreading from and to, and why is it a model for more—innovation, startups, and venture investment?
Read the introduction here.
I conceived this series for StartUp Communities, the blog of venture investor Brad Feld (Foundry Group, Boulder, Colorado, co-founder of Tech Stars, blogger Feld Thoughts).
Subjects covered in this post include:
1.)   First—Three Definitions
2.)   The Russia Tech Scene
3.)   Growth in Russia
4.)   What Changed for Growth to Emerge
5.)   The Spark that Ignited the Start-up of Russia
First—Three Definitions
You might be unfamiliar with this phase 'start-up community.' So here's a short intro to what it is and why it's important to every country on Planet Earth.
A start-up community is a place where entrepreneurs with ideas come together to start new companies, and can actually find the money and the talent to get their start-ups financed, staffed and launched.  Most start-up communities offer appealing lifestyles, are cool places to live, to work, to have fun and do more—faster.  Over time as more and more start-ups are created and financed, an entrepreneurial ecosystem takes root with success begetting success leading to a thriving start-up community.
In the world of venture capital (VC), entrepreneurship and start-up creation, Silicon Valley is the quintessential start-up community in the United States, with the MIT/Boston area as #2.  The term start-up community can be attached to a country as Dan Senor and Saul Singer did in their 2009 book Start-Up Nation: how Israel became a start-up ecosystem with sixty-three publicly Israeli companies traded on the NASDAQ stock exchange in the United States, more than any other foreign country.
Start-up communities attract and breed entrepreneurs.  Entrepreneurship drives economic growth and development, new jobs and of course, wealth creation. It's this prosperity that cities, states, regions and countries around Planet Earth are trying to create, attempting to replicate—duplicate, to get things going; for their survival and renewal, by inspiring wannabe entrepreneurs to take the leap into the unknown and supporting resident entrepreneurs.
I craft two other phrases in this series, Clonentrepreneurs and Clonentrepreneurship; words put together from Clone-Entrepreneurs and Clone-Entrepreneurship (but without the hyphen).
Clonentrepreneurs are entrepreneurs that clone a business idea or a business model of a company and implement it too, sometimes with improvements, sometimes not.  While the word clone may be a 21st century phenomena, clones have been around a long, long time.  Over the years these two companies have taken different paths to growth, but over 100 years ago it was "Coke or Pepsi?"
The Russia Tech Scene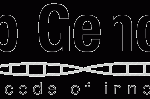 Startup Genome recently published research on the most active start-up ecosystems around the world. It listed Moscow as #10.
It's great to see Russia's largest city rocket into this spot, given that in 2001 less than $100 million/year was invested in Russian seed and early stage tech vs. billions of dollars of private equity money invested in fast moving consumer goods, real estate, construction, wholesaling, retailing, natural resources and other sectors that lifted a post-Soviet economy into the 21st century.  Ten years ago only a handful of emerging growth tech companies existed in Russia includingYandex, Ozon, Mail.ru, Abbyy and Kaspersky to name five.  The first three served primarily the Russian speaking market, the last two—international customers around the world.
In the latter half of the decade, innovation became a priority of the Russian Government to diversify the economy from oil/gas with its investments in the Russian Venture Company(fund-of-funds with ? $1 billion under management) and the Russian Corporation of Nanotechnology (Rusnano, ? $10 billion under management, making fund, project and international investments in nanotech). Even with these efforts, the needle of tech investment crept up ever so slowly to $200 million ± 10% for seed and early stage investments in all sectors.
But everything changed in 2010; investment in seed, start-ups and early stage companies more than doubled from 2009 and in 2011, doubled 2010 results.  In 1Q 2012 the top Internet 10 investments raised over $80 million. Some pundits claim that investment will exceed $1 billion by end of 2012.
What caused this acceleration in investment in just two years, and what are the take-ways for your start-up community; to increase the # of start-ups in your country and entrepreneurs making the commitment to new projects, the amount and velocity of venture money invested with the 'Scaling Up' of entrepreneurship, risk-taking and innovation for more?
Growth in Russia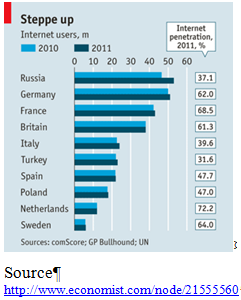 Certainly as the Russian economy rebounded from the lows of the global financial crisis, consumers and businesses were in the mood to spend. Russians increasing lived and breathed on-line with entrepreneurs serving up Internet models to capture their eyeballs and wallets.
Online video advertising in 2011 doubled to $37 million from $15 million, Russian contextual advertising jumped to $430 million in the first half of 2011, an increase of 60% from 2010, Russian Internet advertising clocked in at $1.4 billion, up 56% from 2010 with display (banner) advertising's 2011 spend up 45% to $510 million from 2010.  GP Bullhound an investment bank based in the UK estimates that only 18% of the 53 million Russian internet users shop online, with online advertising consuming only 9% of Russian ad budgets.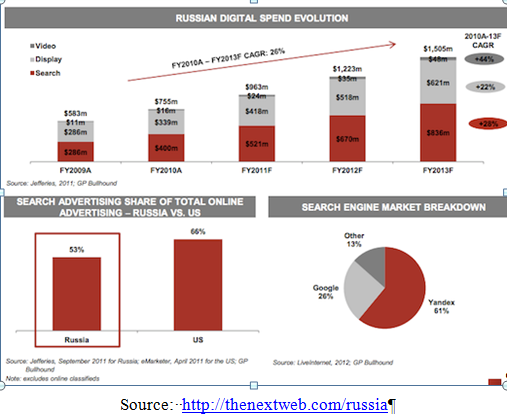 All of this growth translated into increasing revenues for Internet and Web companies withForbes.ru listing the top 30 Russian Internet companies by their 2011 sales.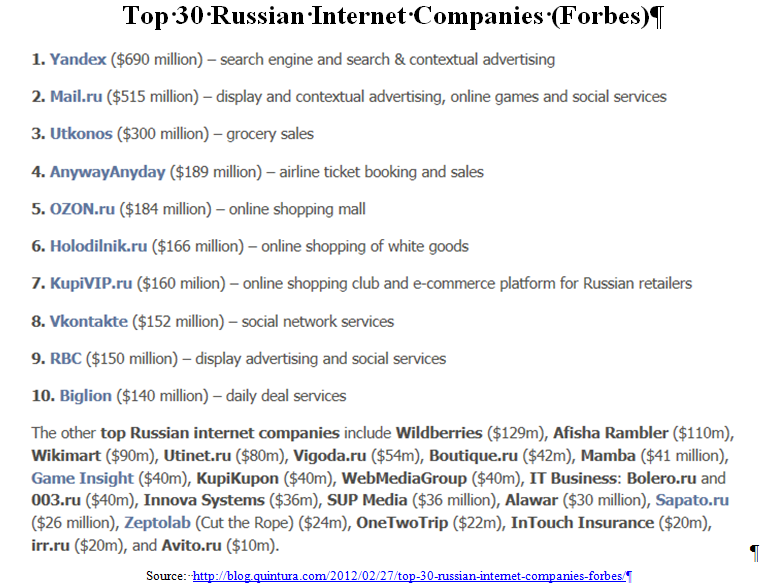 Such growth attracts investors as honey lures bees.  But it's the nature of the deal flow that better explains the huge jumps in VC investment in less than two years and the wave of new entrepreneurs doing start-ups.
What Changed for Growth to Emerge
2010 was a 'tipping point' for the start-up of Russia through two liquidity events and underlying forces in the country. First was the acquisition of the Russian Groupon clone called Darberry by Groupon.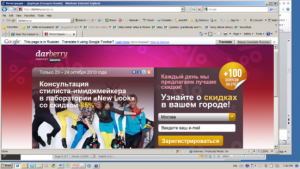 From their formation in February 2010 to its purchase by Groupon in August 2010, Darberry showed the investment path for entrepreneurs and investors in Russia, business models with a real shot at attracting capital.  While a handful of clones existed in Russia, Darberry's sale was a major inflection point for more Russian entrepreneurship.
The second event was the minting of a few billionaires and dozens of new millionaires from the IPO of Mail.ru (valuation—$5.71 billion, November 2010).  After this new wealth splurged on cars, clothes, homes and travel, it financed new start-ups.
Since these liquidity events, dozens of new start-ups raised hundreds of millions of dollars in 2010, 2011 & 1Q2012 with capital invested by new Russian funds formed to finance mainly e-commerce, social and gaming startup clones with US and European venture capitalists co-investing since they had experience with these business models in the West.
Prior to 2008 the Russian tech scene had no role models, no 'mojo' and little connection to the world other than oil/gas.  It was widely known that Russia had deep human talent in mathematics and the physical sciences, yet few knew the route to exploit these assets for commercial ventures.  Some took the path of outsourcing (India model) or system integration to build enterprises like Luxoft, IBS and TerraLink to name three.  A few others walked a different road like Acronis and Parallels:  creation of gamechanging technology for global customers (Israeli model) with R&D conducted in Russia and headquarters located in the United States.
Neither of these endeavors generated the velocity of new start-ups being formed nor an explosion of venture capital investment.  Yet if these were not the paths forward for the creation of a start-up community, then what was—since there was no clarity to what business models would capture the wallets of Russian customers and the cash of Russian investors?
The Spark that Ignited the Start-up of Russia
Certainly the creation of several dozen angel investors with tech experience was an impetus to the start-up of Russia as the market lacked 'smart' money. But that money has to find a home, and that's where clones showed the way forward.
Darberry demonstrated that cloning established Western Internet business models and localizing them for the domestic market captures growth. While profits eluded Darberry, it scaled quickly with revenues multiplying exponentially day-by-day.  This was the signal that Russian investors needed to open their pocketbooks and finance the start-up of Russia.
From Sept. 2010-2011, 20+ new start-ups and development stage companies raised over $400 million.  Most are clones and a small sample of these seed and early stage companies which raised capital is shown below.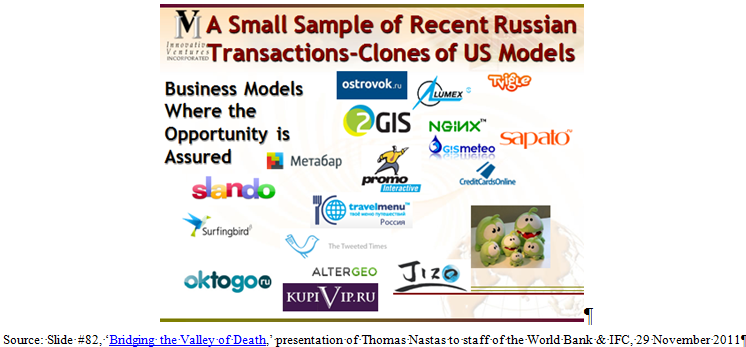 New capital continues to flow into clones.  KupiVIP (clone of USA shopping club Gilt Groupe, itself a clone of French deep discounter Vente-Privée) grew from launch (October 2008) to $200+ million revenue by 2011 with $65 million of new capital raised in 1Q 2012.  In May 2012, Avito.ru, the Russian clone of Craigslist raised a whopping $75 million.
Ok, so, uhm—what's so revolutionary about entrepreneurs cloning the ideas of others and investors financing the start-up of clones?
For Next Time—Part II:  The Cultures of Risk
To answer this question I'll examine how the cultures of risk—developed vs. developing countries—impact the DNA of investors and their willingness to finance seed and early stage tech business models, with some investors 'buying' opportunity while others 'buy' risk.  A preview of the subjects in Part II:
1.)   The Cultural Divide:  What Investors 'Buy'
2.)   What Investors Fear
3.)   The Culture of Venture Capital:  Friend or Foe?
Comments, opinions and questions are welcome here or send directly to me atTom@IVIpe.com.
Be well and be lucky.