Articles
All Articles
All Articles

301

Do More Faster

1

Venture Deals

19

Startup Communities

203

Startup Life

41

Startup CEO

2

Startup Boards

29

Startup Opportunities

2

Revolution

4
Filter
Reset All
Newest
Newest

Oldest

Popularity

Random
We've heard it in startup communities everywhere—while it's become increasingly likely for high-potential companies to get started most anywhere, the best ones often leave for Silicon Valley. One of the most commonly-cited reasons is that Valley investors require companies to move. That may be true, but perhaps it's for a much bigger reason—because doing so is beneficial for these companies. But, what do the data say?
Jorge Guzman of Columbia University attempted to answer this question in a research paper published in May: Go West Young Firm: The Value of Entrepreneurial Migration for Startups and Their Founders. He analyzed migration patterns of high-potential companies across the United States and honed-in on those moving to the Bay Area in particular. To make the process more manageable, he looked only at companies incorporated in Delaware—though representing about 4 percent of all firms, they account for half of all publicly listed businesses, over 60 percent of all venture capital financing, and are 50 times more likely to achieve an IPO or be acquired than are non-Delaware firms. Seems like a good batch to look at.
Guzman's dataset spans companies born between 1988 and 2014, which amounts to nearly half a million firms. He did lots of rigorous statistical work to ensure that he was isolating the impact of migration on a company's performance, rather than some additional factors, and he cut the data in a number of interesting ways (for example, finding that older founders are less likely to migrate—which makes sense as they are more embedded in existing communities).
So, what did his analysis find?
To begin with, he finds a sizable positive impact from moving on a number of key performance metrics, including equity growth (IPO or acquisition), intellectual property, and raising venture financings—and that these effects are the strongest for companies that move to Silicon Valley.
Collectively, we see that although fewer than 0.25 percent of the 500,000 companies studied moved to Silicon Valley, those that did were more than 13 times more likely to achieve a successful exit, 11 times more likely to raise venture capital, and 8 times for likely to secure intellectual property rights, compared with companies that did not move. We also see positive effects for the more than 4 percent of companies overall the move, but the impact is much lower.
Furthermore, Guzman finds that not only are companies that move higher-performers to begin with, but controlling for pre-move firm-quality, he finds a significant impact from the move itself—in other words, Silicon Valley may in fact be siphoning some of the best entrepreneurial talent from other places and it's because doing so helps these companies succeed. In fact, Guzman finds no measurable benefits to moving for companies with lower pre-move quality.
Now, before you startup community leaders in other places feel too defeated, there's a potential silver lining here—there is suggestive though not definitive evidence in Guzman's work that the advantage of moving to Silicon Valley is reducing over time. As Guzman notes, and as can be seen in the figures below, while the quality of migrants to Silicon Valley has remained constant over time, the impact of moving there has not:
"The patterns before and after the dot-com bust are striking… While there was a large benefit of moving to Silicon Valley during the boom years, this benefit becomes negligible in the bust years."
The one drawback here is that in order to conduct this analysis, Guzman looked at a shorter-time period: he only included moves between 1996 and 2006. That means we don't know if migrations to Silicon Valley in recent years have also been reduced, or if this was isolated to just the half-decade or so following the Dotcom boom-bust (a unique period in time). That's a major limitation to the study and one that has me uncertain about what to take away from this, especially given that startup and venture capital activity have been concentrating in the Bay Area considerably in recent years.
For me, the major takeaway as it relates to startup communities is this: a robust entrepreneurial environment provides significant value to high-impact startups, which is something every city should want—there are significant economic spillover benefits to such activity in a city. The example of Silicon Valley can be thought of as an upper bound for the value improvements that could occur for startups in a city with a vibrant external environment for founders. As the data demonstrated, startups benefit from moves broadly, and while the study didn't go into detail about where those places are, the clear signal is that migrating founders believe that being in some places is more beneficial than others—the evidence here supports that belief.
This post originally appeared on Will Price's blog. Find it here.
In a world of high-speed data and voice networks, web-enabled applications, and a global talent pool, does geography matter?
Will technology break down traditional industry clusters and distribute innovation, wealth, and opportunity across an increasingly flat world?
As a resident in the Valley, to me it is an important question.
Should company founders leverage the benefits of operating in a high-tech cluster and pay the cost premium of doing business here, or should they leverage the benefits of enabling technologies and remain in lower cost geographies, while working to recreate clusters?
The work of Michael Porter helps think through the issues. In his HBR article, "Clusters and the New Economics of Competition," he lays out a convincing argument for the long-term viability of clusters.
He defines clusters as,
"geographic concentrations of interconnected companies and institutions in a particular field. Clusters encompass an array of linked industries and other entities important to competition. They include, for example, suppliers of specialized inputs such as components, machinery, and services, and providers of specialized infrastructure."
His core thesis is that advantage in the global economy lies, ironically, increasingly in local things – knowledge, relationships, and motivation.
Traditionally, competition centered on input-cost advantages – natural and human resources. Today, however, competition rests more on the productive use of inputs, which requires continual innovation. He writes, "modern competition depends on productivity, not on access to inputs or the scale of individual enterprises."
He defines the following characteristics of a cluster that accelerate productivity:
sourcing of information, technology, talent
coordinating with related companies
measuring and motivating improvement
better access to employees and suppliers
access to institutions and public goods (venture firms, lawyers, universities)
complimentarities
co-optition, cluster promote both competition and cooperation
Clusters also directly support new business formation. Porter argues that working in a cluster allows individuals to more easily identify gaps in the current market offerings, enables efficient access to talent, institutions, partners, etc, and a home-grown exit market (i.e. established members of the cluster are the likely acquirer).
The most important insight for me is that the modern economy competes on innovation and that operating within a cluster shortens the cycle time to identifying, resourcing, and realizing areas of need and opportunity.
Michael Porter's thoughtful analysis helps me better understand why the Bay Area "cost premium" is well worth it. Market cap is a function of innovation and growth, and innovation is a function of access to ideas, talent, and supporting resources that eliminate frictions and catalyze connections and progress.
Ironically, in an increasingly globalized economy the Valley is gaining not waning in prominence. The valley takes ~40% of total US VC, with CA taking well over 50%.
What about people, however, who are committed to building companies outside of the Bay Area? Given Porter's work on clusters, it is clear that people outside of a major cluster must work incredibly hard to overcome the evident disadvantage of geography.
Fortunately, a real world example of kickstarting a cluster is underway: Bend, OR. Steve Blank's recent posts on Bend highlight the work of Dino Vendetti, a former Bay Partners GP, who moved up to Bend. The most recent post,Engineering a Regional Tech Cluster, summarizes Dino's strategy:
Encourage entrepreneurial density
Leverage the local university
Lobby for direct flights to major markets
Develop local venture capital sources
Invest in connection via local entrepreneur events and start-up schools
Harness local business community support
Dino, and other cluster pioneers, like the Foundry Group in Boulder and FirstMark in NYC, are clearly thinking holistically about how clusters take shape and what dependencies are required for them to take hold.
Will the valley's choke hold on the technology industry continue?
Or, will the Valley's rising costs, plus collaboration technology improvements, and cluster-based business-government initiatives (ex. Bend) see talent migrate to new clusters and geographies?
Please comment below and share your thoughts. It's an important topic.
This post originates from Scott Weiss's blog on Andreessen Horowitz.
One of the differences between being a CEO and a venture capitalist is that I obviously meet with many more CEOs now than I did then. As such, it has become more apparent that many of my struggles as a CEO are surprisingly common. One observation that stands out, probably because it is rarely discussed, is how many founder/CEOs have relationship struggles with their significant others and families. For me, the brightest years at IronPort were without a doubt the darkest years at home. While I was focused, motivating, articulate, and decisive at work, I was inconsiderate, preoccupied, self-centered, and lazy at home.
Now, having worked through that time with my family, I'm in a much better place to reflect on what happened, how I could have handled things differently, and offer some advice to other founders who may be caught up in a similar dynamic.
As a first time founder/CEO, I really had no idea what I was doing. Sure, I had gone to business school, worked at plenty of large companies and even other successful startups, but nothing prepared me for the incredible stress and overwhelming life focus of actually running a startup.
I did my best to move up the learning curve: I surrounded myself with great mentors, board members, coaches, and, most importantly, the challenging, wicked smart executive team members that worked with me everyday. We definitely made lots of mistakes, but we did many things right and IronPort grew to be a very large and successful company over the seven years before we ultimately sold to Cisco in 2007. All that said, I believe I could have been a much more effective leader if I had leaned in at home. As my relationship with my family deteriorated, so did my concentration at work as I was constantly trying to manage it in fits and starts. Here are some details of my personal struggle:
Part of the magic of a startup is the fear of death. You have only so much money in the bank, and if you don't get to the right milestone before you run out, then you're dead—company goes under, it's over. There's a way to cheat death when you are not going to make it—you sound the alarm and force everyone to code through the night and/or weekend. This is stereotypically the life one signs up for at an early stage tech startup. Get in early, kill yourself with a team making something great, and get a meaningful product out before you run out of money. And hopefully, make it up to that hardworking team with stock options later.
I didn't code, but as the CEO, I felt it necessary to be there physically with the engineering team. I would sit through architecture discussions, product reviews, and wireframe layouts. Sometimes, I would just get everyone lunch or dinner. When we started pulling consistent coding weekends, we brought in the entire management team to serve the engineers: We brought them food, washed their cars, got oil changes, took in their dry cleaning, and arranged for childcare for their kids in the office. Lead by example, lead from the front, was the CEO approach I convinced myself was necessary.
Now contrast this with my home life.
One of the stated values at IronPort was "work/life balance," but I clearly wasn't living it. I was rarely home. And when I was home, well, let's just say I wasn't particularly helpful or cheery. My perspective at the time was: I'm killing myself at work, so when I get home, I just want to kick back with a cocktail and watch some TV. All I do is talk to people all day long and so at home, I'd really prefer not to talk much, just relax.
This posture was, of course, completely opposite to how my wife felt. After having left her VP role in a successful startup, she was now home speaking in monosyllabic words to kids all day and was starving for adult conversation when I got in the door. And that part about sitting on my ass in front of the TV with a cocktail? This ran counter to all of her efforts to teach the kids about pitching in as a family. The message of everyone helping to cook, clean, and be responsible for the household fell completely flat when daddy wouldn't so much as take out the trash or change a light bulb. Nope, I was far too important for that and suggested she should hire someone to keep the house clean or even cook, if that was "stressing her out".
Ugh. I was completely missing the point and talking past her… I was setting such a great example at work, but such a terrible one at home where I often acted like a self-important asshole.
As IronPort grew, I was constantly on the road with customers, press, analysts, and of course, recruiting and energizing employees. We ultimately did over 60% of our revenue outside of the U.S., and we all felt it very important to support all of our disparate offices from Europe to Asia to South America. There were times in a given month when I was gone 50-75% of the days. Even when I was home, I was usually in this brutal state of sleep deprivation and recovery from adjusting to yet another time zone. While I was gone, 100% of the daily burden fell on my spouse, usually resulting in a solid week of arguments upon my return. I started referring to the week after a long trip as "re-entry", like John Glenn's Friendship Seven fireball.
After years of working full-time with our first child, and part-time after our second, my Harvard MBA wife, who had had an amazing career in her own right, "decided" to become a full-time mom and take care of our children shortly after our third was born. I say "decided" because at the time, it was clear to both of us that I wasn't willingly scrubbing in as a 50/50 partner at home. She endured the rocky years while I was running IronPort, but insisted that when it was over, we were going to re-evaluate and recalibrate.
I took about 18 months off in between IronPort and joining Andreessen Horowitz. During that time, I was packing lunches, driving carpools, and making dinners, and began doing my real part in the family. With the help of my wife and other role-model dads, I essentially got re-programmed and it has continued to work for us even though I'm working full-time again. Now one might say that being a partner at a VC firm, even a hard working one, isn't the same as being a founder/CEO of a startup… I'll admit that's true. However, now that I'm on the other side, I believe that I could have coached my former CEO self to success as well. Here are the most critical things I needed to change:
Disconnect to Connect. Although it's easy for me to see it now, at the time I clearly thought what I was doing at work was far more important and urgent than what was going on at home. It sounds weird now, but this required a real mindset change for me. My wife dropped a bunch of hints (e.g. "How did I suddenly land in a 1950's relationship?!"), but I was undeterred in the thick of it. The shock of almost losing the relationship made me pay more attention, but I was only going through the motions with my mind still firmly attached to the business. I believe the change in attitude came from truly connecting and tuning in at home. This required disconnecting from work (e.g. turning off the computer and phone), and completely focusing all of my attention on the details of the home. Cooking a great meal. Helping with a science project. Discussing the future with my partner. I was often rightly accused of being physically present without being mentally present. If you find yourself sneaking into the bathroom to complete emails, then you're certainly not in the moment… Getting some time physically out of the Silicon Valley pressure cooker was also helpful in changing my perspective.
Participate. It's just not possible to be a real partner if you aren't materially participating. I believe even the busiest CEOs must drive a carpool, pack a lunch, help with homework, make a breakfast or dinner, and consistently attend school events. Being involved every week is the only way to stay connected at home, and it cannot be outsourced. No matter how exhausted I am from traveling, I push myself to "not be lazy" at home—it's just too important. When you are involved, there is a natural cadence to planning the week together and communication improves dramatically.
Communicate. Multiple, daily phone and text check-ins are the norm now, but not then. When I was traveling at IronPort, I would sometimes go for days without communicating at all. Now that I am completely tuned in to the weekly family schedule, we plan and calendar family meals (perhaps the single most important thing we do), pickups and drop-offs, and make adjustments on the fly. E.g. Did some time suddenly free up so I can complete an errand? Can I pick something up on the way home? Etc. My norm is to check in between meetings, but if I'm the "parent on duty"—i.e., if my wife is out of town—then I will start a meeting with, "You'll have to excuse me, but I'm the parent in town so I need to keep my phone handy in case of an issue." Communication was by far my biggest area for improvement.
Planning and Priorities. My wife and I have a weekly date night. My son and I are in a fantasy football league together. I cook with my daughters. Most times these have become immovable appointments on my calendar. There is a phrase—"truth in calendaring"—if something is important, then you must carve out time in your life to do it. When my calendar reflects that I can't do a meeting on Wednesday and Friday mornings before 9am, because I cook breakfast and drive a carpool, then it's amazing how meetings just don't get scheduled. If at all possible, living physically close to the office is also a huge help to juggling the priorities. It means that I can cut out for a family dinner and then go back to the office or have a late meeting afterwards.
In retrospect, I believe that I could convince the hardest working CEOs that having some real life balance by investing in your important relationships will make you a better CEO. When you are out of balance, it affects your stress, judgment, and ultimately becomes another destabilizer just when you need to be the most put together. I also believe this change is actually a much better example of leadership than the one I was exuding. When a leader shows the way toward getting things done and balancing their life, it sets a much better example for everyone else in the company who struggle with it too.
Scott Weiss, Andreessen Horowitz
In a piece on Marketplace Tech, Brad Feld articulates that startups do not need to be in Silicon Valley to be successful. Two examples: Boulder, CO and Provo, Utah have vibrant startup communities that allow for innovation in the early stage as well as significant exit activity.
Listen or read the full article here.
Today on Marketplace Tech, another blooming startup community was given a great write up. The article, Startups Think Outside the Silicon Valley Box, walks through some reasons how and why Salt Lake City, Utah is a fast up-and-comer in the startup scene. It might be because of the engineering research coming out of the University of Utah. It might be because of the low cost of living (making wages that startups can afford to  pay top talent). It might be because of the foundation of a strong work ethic and perseverance due to the Mormon faith. Either way, entrepreneurs are choosing to build companies in Salt Lake City and venture capital is flowing in.
Read or listen to the full piece here at Marketplace Tech.
Guest Post By Tom Nastas – Scaling Up Innovation – (VC, Mentor, Blogger)
The most frequent complaint I hear from entrepreneurs in the emerging markets is the lack of risk capital in their country; investors willing to finance start-ups and early stage companies.  Many founders travel to America seeking money and connections in the US venture ecosystem.  While a few are able to raise cash, most don't—and return home empty handed—to face an unknown future.
With trillions of dollars invested in food & beverage, fast moving consumer goods, retailing, wholesaling and construction to name just a few, plenty of money exists in the developing world—from Beijing to Buenos Aires to Bangalore—and from Moscow to Manila to Mexico City.  So if there is so much capital seeking opportunities, why is it such a struggle to get local investors to open their pocketbooks and finance technology, 1st time entrepreneurs and early stage SMEs? And what actions can entrepreneurs implement to 'shape' their business models to the risk attitudes and behaviors of investors + learn to 'sell risk, then opportunity'—to raise $ for their ventures?
I spoke on these subjects to entrepreneurs, investors and government officials from East Europe as the invited guest of US Ambassador to Croatia, Mr. Kenneth Merten and his economic section chief Thomas Johnston at the Brown Forum. This event commemorates former US Secretary of Commerce Ron Brown's (Clinton Administration) efforts over 20 years ago to initiate trade between states of the former Yugoslavia—after years of war and conflict—and the United States.  The theme of 2013's event was 'Entrepreneurship & Venture Capital in South East Europe.'
Topics in my 16 minute video talk include:
Investor behavior is driven by the cultures of risk:  What it is, how it differs in the emerging markets vs. Silicon Valley and actions to make risk your friend—not your foe
Debunking myths—what investors (do/will) finance in emerging markets. Risks 'bought' by investors in the developing world & risks which scare them (beginning with slide #39)
Business models which unlock capital—& those that don't
What I ask of you
With a deeper understanding and insight into the risk behavior of capital, entrepreneurs can create and 'shape' business models to unlock the wallets of customers and investors. So please write me with the solutions and strategies you used to overcome the cultures of risk and raise $ for your venture.
---
An entrepreneur myself, I created Innovative Ventures Inc., (www.IVIpe.com) in 1986 to invest venture capital (VC) into university
technology from Michigan State University and the University of Michigan.
Then I Did Entrepreneurship and Venture Capital in International Countries
In 1990 with a few coins and lots of energy I led IVI's international expansion into Canada & Europe, then Africa, later into Kazakhstan and Russia, created new venture funds and grant program to finance technology and entrepreneurs across these continents and countries through equity, debt, grants & royalty structures: $300+ million committed from Governments and development banks like the US Government, the European Bank for Reconstruction & Development, the World Bank and its investment arm the International Finance Corporation, Canadian Development Bank, European Commission, the Government of Kazakhstan and institutional investors.
I've lived, worked and invested in Canada, Europe, Africa, Kazakhstan and Russia (in Moscow for 10 years). Over the last 20 years I've acquired a deep understanding of investing in tech and non-tech companies/entrepreneurs (with domestic investors and Governments) in these regions, what works & does not (& why) in countries with different economic environments, cultural practices and legal regimes that require new protocols of doing business to balance the interests of all stakeholders to achieve success. Now I split my time in Michigan, Russia & Kazakhstan, and other places where contributions are needed.
Related articles
Guest Post By Tom Nastas – Scaling up Innovation – (VC, Mentor, Blogger)
Tom Nastas a 25 year VC veteran in US, int'l and emerging markets wrote a series for Startup Rev on the 'spark' which sparked the startup of Russia and how the development of start-up communities in emerging markets are shaped much more by the cultures of risk vs. what we investors and entrepreneurs face in the USA. An interesting read, below are the individual posts and content for each one.
Last time I introduced the questions as topics for answers in this five part post series:
1.)   What is the 'spark' that ignites the startup of start-up communities?
2.)   How does the 'start-up' of startup communities differ—emerging markets vs. developed countries?
3.)   Why is the US entrepreneurial model of experimentation, trial and error and pivoting a death sentence for entrepreneurs in the emerging markets? And what you can do about it.
4.)   How does the culture of risk and failure in emerging markets impact investor DNA—what they finance and what they won't
5.)   What is Clonentrepreneurship, where is it spreading from and to, and why is it a model for more—innovation, startups, and venture investment?
Read the introduction here.
I conceived this series for StartUp Communities, the blog of venture investor Brad Feld (Foundry Group, Boulder, Colorado, co-founder of Tech Stars, blogger Feld Thoughts).
Subjects covered in this post include:
1.)   First—Three Definitions
2.)   The Russia Tech Scene
3.)   Growth in Russia
4.)   What Changed for Growth to Emerge
5.)   The Spark that Ignited the Start-up of Russia
First—Three Definitions
You might be unfamiliar with this phase 'start-up community.' So here's a short intro to what it is and why it's important to every country on Planet Earth.
A start-up community is a place where entrepreneurs with ideas come together to start new companies, and can actually find the money and the talent to get their start-ups financed, staffed and launched.  Most start-up communities offer appealing lifestyles, are cool places to live, to work, to have fun and do more—faster.  Over time as more and more start-ups are created and financed, an entrepreneurial ecosystem takes root with success begetting success leading to a thriving start-up community.
In the world of venture capital (VC), entrepreneurship and start-up creation, Silicon Valley is the quintessential start-up community in the United States, with the MIT/Boston area as #2.  The term start-up community can be attached to a country as Dan Senor and Saul Singer did in their 2009 book Start-Up Nation: how Israel became a start-up ecosystem with sixty-three publicly Israeli companies traded on the NASDAQ stock exchange in the United States, more than any other foreign country.
Start-up communities attract and breed entrepreneurs.  Entrepreneurship drives economic growth and development, new jobs and of course, wealth creation. It's this prosperity that cities, states, regions and countries around Planet Earth are trying to create, attempting to replicate—duplicate, to get things going; for their survival and renewal, by inspiring wannabe entrepreneurs to take the leap into the unknown and supporting resident entrepreneurs.
I craft two other phrases in this series, Clonentrepreneurs and Clonentrepreneurship; words put together from Clone-Entrepreneurs and Clone-Entrepreneurship (but without the hyphen).
Clonentrepreneurs are entrepreneurs that clone a business idea or a business model of a company and implement it too, sometimes with improvements, sometimes not.  While the word clone may be a 21st century phenomena, clones have been around a long, long time.  Over the years these two companies have taken different paths to growth, but over 100 years ago it was "Coke or Pepsi?"
The Russia Tech Scene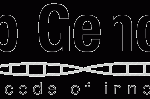 Startup Genome recently published research on the most active start-up ecosystems around the world. It listed Moscow as #10.
It's great to see Russia's largest city rocket into this spot, given that in 2001 less than $100 million/year was invested in Russian seed and early stage tech vs. billions of dollars of private equity money invested in fast moving consumer goods, real estate, construction, wholesaling, retailing, natural resources and other sectors that lifted a post-Soviet economy into the 21st century.  Ten years ago only a handful of emerging growth tech companies existed in Russia includingYandex, Ozon, Mail.ru, Abbyy and Kaspersky to name five.  The first three served primarily the Russian speaking market, the last two—international customers around the world.
In the latter half of the decade, innovation became a priority of the Russian Government to diversify the economy from oil/gas with its investments in the Russian Venture Company(fund-of-funds with ? $1 billion under management) and the Russian Corporation of Nanotechnology (Rusnano, ? $10 billion under management, making fund, project and international investments in nanotech). Even with these efforts, the needle of tech investment crept up ever so slowly to $200 million ± 10% for seed and early stage investments in all sectors.
But everything changed in 2010; investment in seed, start-ups and early stage companies more than doubled from 2009 and in 2011, doubled 2010 results.  In 1Q 2012 the top Internet 10 investments raised over $80 million. Some pundits claim that investment will exceed $1 billion by end of 2012.
What caused this acceleration in investment in just two years, and what are the take-ways for your start-up community; to increase the # of start-ups in your country and entrepreneurs making the commitment to new projects, the amount and velocity of venture money invested with the 'Scaling Up' of entrepreneurship, risk-taking and innovation for more?
Growth in Russia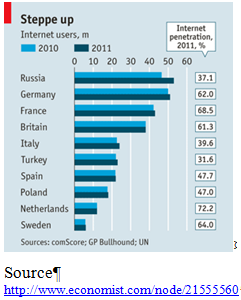 Certainly as the Russian economy rebounded from the lows of the global financial crisis, consumers and businesses were in the mood to spend. Russians increasing lived and breathed on-line with entrepreneurs serving up Internet models to capture their eyeballs and wallets.
Online video advertising in 2011 doubled to $37 million from $15 million, Russian contextual advertising jumped to $430 million in the first half of 2011, an increase of 60% from 2010, Russian Internet advertising clocked in at $1.4 billion, up 56% from 2010 with display (banner) advertising's 2011 spend up 45% to $510 million from 2010.  GP Bullhound an investment bank based in the UK estimates that only 18% of the 53 million Russian internet users shop online, with online advertising consuming only 9% of Russian ad budgets.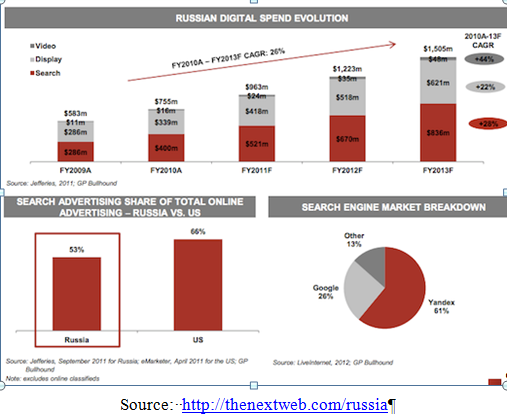 All of this growth translated into increasing revenues for Internet and Web companies withForbes.ru listing the top 30 Russian Internet companies by their 2011 sales.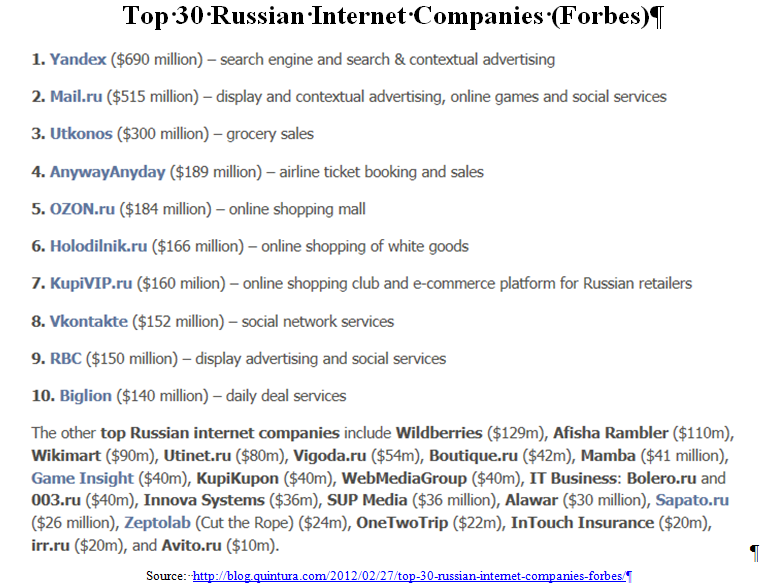 Such growth attracts investors as honey lures bees.  But it's the nature of the deal flow that better explains the huge jumps in VC investment in less than two years and the wave of new entrepreneurs doing start-ups.
What Changed for Growth to Emerge
2010 was a 'tipping point' for the start-up of Russia through two liquidity events and underlying forces in the country. First was the acquisition of the Russian Groupon clone called Darberry by Groupon.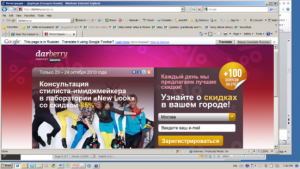 From their formation in February 2010 to its purchase by Groupon in August 2010, Darberry showed the investment path for entrepreneurs and investors in Russia, business models with a real shot at attracting capital.  While a handful of clones existed in Russia, Darberry's sale was a major inflection point for more Russian entrepreneurship.
The second event was the minting of a few billionaires and dozens of new millionaires from the IPO of Mail.ru (valuation—$5.71 billion, November 2010).  After this new wealth splurged on cars, clothes, homes and travel, it financed new start-ups.
Since these liquidity events, dozens of new start-ups raised hundreds of millions of dollars in 2010, 2011 & 1Q2012 with capital invested by new Russian funds formed to finance mainly e-commerce, social and gaming startup clones with US and European venture capitalists co-investing since they had experience with these business models in the West.
Prior to 2008 the Russian tech scene had no role models, no 'mojo' and little connection to the world other than oil/gas.  It was widely known that Russia had deep human talent in mathematics and the physical sciences, yet few knew the route to exploit these assets for commercial ventures.  Some took the path of outsourcing (India model) or system integration to build enterprises like Luxoft, IBS and TerraLink to name three.  A few others walked a different road like Acronis and Parallels:  creation of gamechanging technology for global customers (Israeli model) with R&D conducted in Russia and headquarters located in the United States.
Neither of these endeavors generated the velocity of new start-ups being formed nor an explosion of venture capital investment.  Yet if these were not the paths forward for the creation of a start-up community, then what was—since there was no clarity to what business models would capture the wallets of Russian customers and the cash of Russian investors?
The Spark that Ignited the Start-up of Russia
Certainly the creation of several dozen angel investors with tech experience was an impetus to the start-up of Russia as the market lacked 'smart' money. But that money has to find a home, and that's where clones showed the way forward.
Darberry demonstrated that cloning established Western Internet business models and localizing them for the domestic market captures growth. While profits eluded Darberry, it scaled quickly with revenues multiplying exponentially day-by-day.  This was the signal that Russian investors needed to open their pocketbooks and finance the start-up of Russia.
From Sept. 2010-2011, 20+ new start-ups and development stage companies raised over $400 million.  Most are clones and a small sample of these seed and early stage companies which raised capital is shown below.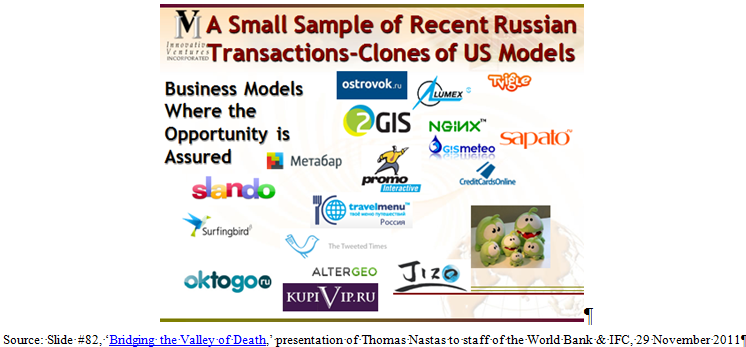 New capital continues to flow into clones.  KupiVIP (clone of USA shopping club Gilt Groupe, itself a clone of French deep discounter Vente-Privée) grew from launch (October 2008) to $200+ million revenue by 2011 with $65 million of new capital raised in 1Q 2012.  In May 2012, Avito.ru, the Russian clone of Craigslist raised a whopping $75 million.
Ok, so, uhm—what's so revolutionary about entrepreneurs cloning the ideas of others and investors financing the start-up of clones?
For Next Time—Part II:  The Cultures of Risk
To answer this question I'll examine how the cultures of risk—developed vs. developing countries—impact the DNA of investors and their willingness to finance seed and early stage tech business models, with some investors 'buying' opportunity while others 'buy' risk.  A preview of the subjects in Part II:
1.)   The Cultural Divide:  What Investors 'Buy'
2.)   What Investors Fear
3.)   The Culture of Venture Capital:  Friend or Foe?
Comments, opinions and questions are welcome here or send directly to me atTom@IVIpe.com.
Be well and be lucky.
Fred Wilson from Union Square Ventures has an extraordinary post up titled The Darwinian Evolution of Startup Hubs. Fred was part of the first cycle of the NYC startup community in the 1990's and has played a key role in the development of evolution of it, while not limiting himself to only participating in startups in NYC. As a result, he's got broad perspective about startup communities and the post he writes is right on the money. The conversation in his comments are great – go participate over there if you have comments.
This weekend finds NYC in between Internet Week (which I largely missed because of my London trip) and Disrupt NYC (which I will be at on and off this coming week). So the development of NYC as a startup hub is very much on my mind. And so I thought I'd post about the development of startup hubs.
This theory, which I like the call The Darwinian Evolution of Startup Hubs, is not new and I certainly didn't come up with it. But I think it is important for everyone to understand and so I'm going to blog about it.
If you study Silicon Valley, what you see is something that looks like a forest where trees grow tall, produce seeds that drop and start new trees, and eventually the older trees mature and stop growing or worse, die of disease and rot, but the new trees grow up even taller and stronger.
In my mental model of Silicon Valley, the first "tree" was Fairchild Semiconductor (founded in 1957) which begat Intel (founded 1968) which begat Apple (1976) and Oracle (1977), which begat Sun (1982), Silicon Graphics (1981), and Cisco (1984) which begat Siebel (1993) and Netscape (1994), which begat Yahoo! (1995) and eBay (1995), which begat Google (1998) and PayPal (1998), which begat YouTube (2005), Facebook (2004), and LinkedIn (2003) which begat Twitter (2006) and Zynga (2007), which begat Square (2010), Dropbox (2008), and many more.
If I left out important foundational companies of this mental model, please forgive me. That was not meant to be a comprehensive history. It was meant to illustrate how this evolutionary scenario plays out over time.
If you drill down a bit deeper, you see that the founders, investors and early employees generate a tremendous amount of wealth from these big successes. The later employees don't make as much wealth but they do learn a ton and make enough money that they don't need to work for someone else and so they strike out on their own and are often funded by the folks who made the big money in the prior startup. That's how the seed drops from the tree and starts a new tree growing. This continues on and on and on.
If you look at that history of silicon valley, you see that in the forty year history (since Intel's formation), there have been close to ten cycles of maturation and new company formation, and those cycles are getting shorter and the number of important foundational companies that are formed each cycle are increasing.
That makes total sense since this darwinian evolutionary model is non linear. One company begets two and those two companies beget four, and so on and so forth. Of course there are exogenous factors that also play out, like technology changes, financial market cycles, and the availability and cost of talent, and they impact how fast the startup hub economy expands.
This darwinian evolutionary model of startup hub development is not limited to silicon valley. We have seen it play out in other places, most notably Boston, and increasingly in NYC. It is also playing out in markets like Boulder Colorado and Austin Texas and many other parts of the US and many parts of the world.
When I look at a startup hub, I like to figure out what the "Fairchild Semiconductor" of that market was and when it got started. That tells me how far along the development cycle that startup hub is. In NYC, that was Doubleclick which was founded in 1996, the same year as my first venture capital firm, Flatiron Partners, which was founded on two premises, that the Internet would be big and that NYC would be an important locus of Internet innovation. We did not invest in Doubleclick (sadly) but we did invest in a lot of interesting Internet companies in NYC in the late 90s.
So NYC's startub ecosystem is 16 years old now. And we are two cycles in. The companies that are getting started and funded right now in NYC are akin to the Apple/Oracle stage of silicon valley. If you want to push, you could suggest that we are three cycles in now and the companies that are getting funded right now are akin to the Sun/Silicon Graphics/Cisco era. That might be right.
But in any case, NYC's tech sector is not anywhere close in terms of fertility to silicon valley. It will be there in another 25 to 30 years. And silicon valley will be even further along.
Unless, of course, something else happens.
The technological revolution that preceded the digital revolution was autos and airplanes. They were invented in the late 19th and early 20th centuries and the first commercial startups emerged in the first decade of the 20th century.  The auto/airplane revolution played out until the 1960s/1970s. That suggests that a technology revolution lasts around 75 years.
The transistor was invented in the late 1940s and by 1958 we had commercial startups working on the technology. So if this revolution is anything like the last, the next big thing will be invented any day now and within a decade or two we will be on to the next technology revolution.
And in that case, all bets are off. Silicon Valley could become the next Detroit and who knows what will be the next Silicon Valley.
But of course, all of this is conjecture. History doesn't repeat itself. But it does rhyme. That comes from Samuel Clemens (aka Mark Twain). One of my favorite people ever.