Articles
All Articles
All Articles

301

Do More Faster

1

Venture Deals

19

Startup Communities

203

Startup Life

41

Startup CEO

2

Startup Boards

29

Startup Opportunities

2

Revolution

4
Filter
Reset All
Newest
Newest

Oldest

Popularity

Random
Your Story, a site built for entrepreneurs in India, published a review of Startup Boards: Getting the Most of Your Board of Directors. The review is quick to point out that this book is a critical read for entrepreneurs that are about to take on institutional funding and need to understand investor dynamics.
The post also contains a chart that summarizes the high level themes of the book.
Read the full review here.
This post originates from Scott Weiss's blog on Andreessen Horowitz.
One of the differences between being a CEO and a venture capitalist is that I obviously meet with many more CEOs now than I did then. As such, it has become more apparent that many of my struggles as a CEO are surprisingly common. One observation that stands out, probably because it is rarely discussed, is how many founder/CEOs have relationship struggles with their significant others and families. For me, the brightest years at IronPort were without a doubt the darkest years at home. While I was focused, motivating, articulate, and decisive at work, I was inconsiderate, preoccupied, self-centered, and lazy at home.
Now, having worked through that time with my family, I'm in a much better place to reflect on what happened, how I could have handled things differently, and offer some advice to other founders who may be caught up in a similar dynamic.
As a first time founder/CEO, I really had no idea what I was doing. Sure, I had gone to business school, worked at plenty of large companies and even other successful startups, but nothing prepared me for the incredible stress and overwhelming life focus of actually running a startup.
I did my best to move up the learning curve: I surrounded myself with great mentors, board members, coaches, and, most importantly, the challenging, wicked smart executive team members that worked with me everyday. We definitely made lots of mistakes, but we did many things right and IronPort grew to be a very large and successful company over the seven years before we ultimately sold to Cisco in 2007. All that said, I believe I could have been a much more effective leader if I had leaned in at home. As my relationship with my family deteriorated, so did my concentration at work as I was constantly trying to manage it in fits and starts. Here are some details of my personal struggle:
Part of the magic of a startup is the fear of death. You have only so much money in the bank, and if you don't get to the right milestone before you run out, then you're dead—company goes under, it's over. There's a way to cheat death when you are not going to make it—you sound the alarm and force everyone to code through the night and/or weekend. This is stereotypically the life one signs up for at an early stage tech startup. Get in early, kill yourself with a team making something great, and get a meaningful product out before you run out of money. And hopefully, make it up to that hardworking team with stock options later.
I didn't code, but as the CEO, I felt it necessary to be there physically with the engineering team. I would sit through architecture discussions, product reviews, and wireframe layouts. Sometimes, I would just get everyone lunch or dinner. When we started pulling consistent coding weekends, we brought in the entire management team to serve the engineers: We brought them food, washed their cars, got oil changes, took in their dry cleaning, and arranged for childcare for their kids in the office. Lead by example, lead from the front, was the CEO approach I convinced myself was necessary.
Now contrast this with my home life.
One of the stated values at IronPort was "work/life balance," but I clearly wasn't living it. I was rarely home. And when I was home, well, let's just say I wasn't particularly helpful or cheery. My perspective at the time was: I'm killing myself at work, so when I get home, I just want to kick back with a cocktail and watch some TV. All I do is talk to people all day long and so at home, I'd really prefer not to talk much, just relax.
This posture was, of course, completely opposite to how my wife felt. After having left her VP role in a successful startup, she was now home speaking in monosyllabic words to kids all day and was starving for adult conversation when I got in the door. And that part about sitting on my ass in front of the TV with a cocktail? This ran counter to all of her efforts to teach the kids about pitching in as a family. The message of everyone helping to cook, clean, and be responsible for the household fell completely flat when daddy wouldn't so much as take out the trash or change a light bulb. Nope, I was far too important for that and suggested she should hire someone to keep the house clean or even cook, if that was "stressing her out".
Ugh. I was completely missing the point and talking past her… I was setting such a great example at work, but such a terrible one at home where I often acted like a self-important asshole.
As IronPort grew, I was constantly on the road with customers, press, analysts, and of course, recruiting and energizing employees. We ultimately did over 60% of our revenue outside of the U.S., and we all felt it very important to support all of our disparate offices from Europe to Asia to South America. There were times in a given month when I was gone 50-75% of the days. Even when I was home, I was usually in this brutal state of sleep deprivation and recovery from adjusting to yet another time zone. While I was gone, 100% of the daily burden fell on my spouse, usually resulting in a solid week of arguments upon my return. I started referring to the week after a long trip as "re-entry", like John Glenn's Friendship Seven fireball.
After years of working full-time with our first child, and part-time after our second, my Harvard MBA wife, who had had an amazing career in her own right, "decided" to become a full-time mom and take care of our children shortly after our third was born. I say "decided" because at the time, it was clear to both of us that I wasn't willingly scrubbing in as a 50/50 partner at home. She endured the rocky years while I was running IronPort, but insisted that when it was over, we were going to re-evaluate and recalibrate.
I took about 18 months off in between IronPort and joining Andreessen Horowitz. During that time, I was packing lunches, driving carpools, and making dinners, and began doing my real part in the family. With the help of my wife and other role-model dads, I essentially got re-programmed and it has continued to work for us even though I'm working full-time again. Now one might say that being a partner at a VC firm, even a hard working one, isn't the same as being a founder/CEO of a startup… I'll admit that's true. However, now that I'm on the other side, I believe that I could have coached my former CEO self to success as well. Here are the most critical things I needed to change:
Disconnect to Connect. Although it's easy for me to see it now, at the time I clearly thought what I was doing at work was far more important and urgent than what was going on at home. It sounds weird now, but this required a real mindset change for me. My wife dropped a bunch of hints (e.g. "How did I suddenly land in a 1950's relationship?!"), but I was undeterred in the thick of it. The shock of almost losing the relationship made me pay more attention, but I was only going through the motions with my mind still firmly attached to the business. I believe the change in attitude came from truly connecting and tuning in at home. This required disconnecting from work (e.g. turning off the computer and phone), and completely focusing all of my attention on the details of the home. Cooking a great meal. Helping with a science project. Discussing the future with my partner. I was often rightly accused of being physically present without being mentally present. If you find yourself sneaking into the bathroom to complete emails, then you're certainly not in the moment… Getting some time physically out of the Silicon Valley pressure cooker was also helpful in changing my perspective.
Participate. It's just not possible to be a real partner if you aren't materially participating. I believe even the busiest CEOs must drive a carpool, pack a lunch, help with homework, make a breakfast or dinner, and consistently attend school events. Being involved every week is the only way to stay connected at home, and it cannot be outsourced. No matter how exhausted I am from traveling, I push myself to "not be lazy" at home—it's just too important. When you are involved, there is a natural cadence to planning the week together and communication improves dramatically.
Communicate. Multiple, daily phone and text check-ins are the norm now, but not then. When I was traveling at IronPort, I would sometimes go for days without communicating at all. Now that I am completely tuned in to the weekly family schedule, we plan and calendar family meals (perhaps the single most important thing we do), pickups and drop-offs, and make adjustments on the fly. E.g. Did some time suddenly free up so I can complete an errand? Can I pick something up on the way home? Etc. My norm is to check in between meetings, but if I'm the "parent on duty"—i.e., if my wife is out of town—then I will start a meeting with, "You'll have to excuse me, but I'm the parent in town so I need to keep my phone handy in case of an issue." Communication was by far my biggest area for improvement.
Planning and Priorities. My wife and I have a weekly date night. My son and I are in a fantasy football league together. I cook with my daughters. Most times these have become immovable appointments on my calendar. There is a phrase—"truth in calendaring"—if something is important, then you must carve out time in your life to do it. When my calendar reflects that I can't do a meeting on Wednesday and Friday mornings before 9am, because I cook breakfast and drive a carpool, then it's amazing how meetings just don't get scheduled. If at all possible, living physically close to the office is also a huge help to juggling the priorities. It means that I can cut out for a family dinner and then go back to the office or have a late meeting afterwards.
In retrospect, I believe that I could convince the hardest working CEOs that having some real life balance by investing in your important relationships will make you a better CEO. When you are out of balance, it affects your stress, judgment, and ultimately becomes another destabilizer just when you need to be the most put together. I also believe this change is actually a much better example of leadership than the one I was exuding. When a leader shows the way toward getting things done and balancing their life, it sets a much better example for everyone else in the company who struggle with it too.
Scott Weiss, Andreessen Horowitz
A few days ago Brad gave a talk on Startup Communities to techhub Bucharest via remote link. 
Check out the video from the talk below.
What is techhub?
TechHub is a unique environment where technology startups can start up faster. We nurture an international network of like-minded and focused tech entrepreneurs, providing places where they can work, meet, collaborate, network, learn and have fun. By getting the right people together in a physical space, good things happen.
In Bucharest, TechHub partners with How to Web, the vibrant annual conference that brings together tech entrepreneurs, investors and supporters. We're seeing so many interesting companies starting up in Romania, that through TechHub Bucharest, we wanted to help bring those startups together and provide a consistent catalyst for them to surge ahead to success.
Related articles
We're beginning to see an interesting phenomenon occur with the success of Startup Communities. Readers are extrapolating the lessons within the book and are raising some interesting questions about the drivers, best practices and key components of startup communities. Recently, Dan Moore, a local Boulder IT consultant, wrote a blog post questioning the lasting impact the personnel of a former employer had on the local startup community. His blog post raises an interesting question.
How many startups have been birthed as a result of personnel from a former startup?
In his own case, Mr. Moore was an employee of XOR, (Internet technology, Systems, IT) and according to his experience some 23 companies were formed as an off fall of its sale, one of which includes the company he currently works for. This information has spurred the team here at Startup Revolution to wonder if we could put together a data set that would depict the general impact startups have on their communities.
So we decided to begin the process of sourcing information regarding such matters and are now putting together a data set on the long term residual effects of startups; no matter their outcome. Whether they failed or succeeded we want to know the impact startups have.
So we've got a favor to ask…we need you to fill out the form below providing us with important information on the number of companies that were spun off as a result of either the sale or closing up of a former employer.
Simply fill out and submit the form below and we'll start building the data set.
Thanks for all the help!
-The Startup Revolution Team
Guest Post By Jesse Anderson – NNSDG – (Founder)
I run a software developers group in Reno, NV called Northern Nevada Software Developers Group. Within the contexts of Startup Communities, our group acts as a feeder, but unfortunately we haven't been as welcoming to entrepreneurs as we should have been.  Conversely, some of our guest entrepreneurs haven't been as good at consuming our material as they could have been.  What follows are some observations and pointers to help make industry groups better feeders and entrepreneurs better users of such resources.
We get a wide range of entrepreneurs that attend our meetings.  Unfortunately the vast majority of these entrepreneurs only attend one meeting. During that meeting, they make a feverish pitch for their newly minted company which typically motivates one or two developers to get more information, but many pitches often result in no interest at all.
I didn't quite know how to put this issue into words until I read Startup Communities.  The mantra of "give before you get" really applies to our situation and having entrepreneurs blow in and out after one session certainly doesn't have any "give" to it.  In the group members' and my view, most of entrepreneurs are only showing up to get a few warm bodies on a project.  They aren't there to learn something or foster any sense of community. Meanwhile, I'm spending time, effort and money to engender a sense of community for developers and I want entrepreneurs to be a part of our ecosystem.
This pattern of "get before giving" has led me to be less accommodating to the entrepreneurs at our meetings.  In most situations I'll allow them to do a short pitch, but I'm often not very encouraging of their ventures and am generally quite standoffish.  Over time this behavior stifled entrepreneurial interest and the experience has taught me that I need to be much more inclusive and welcoming to the entrepreneurs that attend our meetings, no matter their intentions.
I started inviting entrepreneurs to speak to our group in the hopes that it would help inspire more entrepreneurship both within the group and the community, but our meetings haven't been well attended.  I think this bears out Startup Communities' point that there are entrepreneurs, and then there's everyone else.  I've come to understand that our role as a feeder is to encourage entrepreneurship and the commingling of professionals with entrepreneurs seeking talent.
My perception of the startup ecosystem has of course been colored by my own experiences.  Having been one of the first full-time employees of a local startup I know the trials and tribulations of working at a young company.  Long story short, the company failed and the experience didn't exactly motivate me to want to join another early stage startup.  Since then I've often dissuaded others from joining startups in the hopes of saving them from having to experience the same end result. I'd like to believe that I'm protecting the group members, but I've learned that I need to let everyone make their own choices. The fact is, their individual startup experiences will ultimately differ greatly from my own.  So, if a group member wants to hear my stories, I'll open up and tell them, but I've ceased trying to actively persuade them.
Expecting startups to fail is a failure on my part and is a perception I need to change.  It's not easy to walk away from a failure you're a part of and for a long time I was embarrassed about my own startup failure. Young startups fail all the time, many of them for reasons that are impossible to overcome, but in my case I felt I should have and could have done something about it. Becoming comfortable with the the natural life-cycle of the startup ecosystem is something I need to work on and attending various events like startup wakes, open coffee clubs and hackathons will hopefully put me on the right track.
Industry groups are an important part of the feeder ecosystem.  As a group, we can add a lot of value to our startup community, but in order to do so it's vital that we check our preconceived notions at the door or we'll never be the best feeders.
Related articles
Guest Post By Danny Beckett Jr – Free Lunch Friday (Co-Founder)
Several years ago in a small community in the Midwest, I decided to invite the startups and entrepreneurs out for some free food, beer, and community at my office.
This was my way of bringing together the local startups and entrepreneurs to say thank you for the work and hustle that they put into building their companies day in and day out. A way for me to say thank you for your sacrifices, thank you for your time and unrelenting energy, thank you for creating jobs and opportunities. And thank you for feeding our local economy and the mouths of our citizens.
Why?  This was how I was raised – to take care of the people who take care of you. And why not do it over good food, good people, and few hungry startups and entrepreneurs?
This small act of bringing everyone together turned into FLF (Free Lunch Friday) where we would gather on the last Friday of every month.
What started out as just 25 people getting together eventually grew into monthly event with over 200 people in attendance. As FLF grew we added various content and programming elements such as: speakers, local bands, holiday events, and more.
People would look forward to FLF every month – it became the hub within the community for startups and entrepreneurs to gather.
Years later after watching so many lose jobs and people try to come up another plan to fix our economies, I figured let's get back to the basics of people and community. Let's take a small idea and turn it into a vision that will impact the world.
Welcome to FLF! Free Lunch Friday (FLF) is a non-profit built to provide community, content, connections and access to capital to the hungry startups and entrepreneurs who drive our global economies. We are here to inspire, educate, and empower.
Our vision at FLF is to create a global community of hungry startups and entrepreneurs working together to build incredible companies that drive our economies forward, provide jobs, and change the world.
Our mission is to feed the startups and entrepreneurs that feed our global economies.
When we say feed the startups and entrepreneurs that feed our global economies, we literally mean that we will feed them. At FLF locations around the world startups and entrepreneurs will gather on the last Friday of every month for free food, beer, and community. We will also produce FLF talks at each location that get edited and pushed out to www.thefreelunchfriday.com, for free – think TED on sterooids plus free food, beer, and entrepreneurs!
We are not just another event with a speaker charging you 30 dollars, we are not an advocacy campaign, and we are not another government agency with an agenda. We are serious entrepreneurs who are hungry to make things happen. By partnering with local startup ecosystems and global startup organizations, we feel we can help create a comprehensive support system for startups.  We are on the ground, we are in the trenches, and we want to work with you to launch FLF locations around the world.
Our first FLF locations will launch on Jan 25th in LA, DC, and Detroit. To see a map of planned FLF locations for 2013 please go to www.thefreelunchfriday.com and click on a location to learn more. If you do not see a location please contact us to consider a location in your community.
You can also sign up to be an FLF leader, a speaker, or just be a part of the community. It really takes a variety of people and roles to make it all work.
How about you? Hungry? Thirsty? Seeking community? Join the FLF community of startups and entrepreneurs and help us change the world.
What do you say we get started.
Stay hungry!
On MLK day, the subject of diversity comes alive. And while we address diversity in Startup Boards via the axis of gender, it does not minimize racial challenges. The following post applies to diversity without diluting the premise of competence.
As Startup Board's book cover design was being finalized, Brad nudged for a change of the cover. He didn't yell, with dramatic flourish, "Stop the Press" ( which I have always wanted to do ;-) ) but quite simply said –  "we need more women on the cover – more than just one."
I didn't even realize that we had a cover with a "male dominated" board. Call it "business as usual" lazy thinking, call it carelessness "whats the big deal anyway" or any other name – I am embarrassed!  And I am glad Brad asked for this change. Because if he didn't ask for it, the status quo would prevail. That's unacceptable and we need your help to change that. Here is why:
1) Business as usual will not get us there:  All male dominated startup boards  = business us usual. These boards have worked for the large part but we dont know what we are missing. And what got us here will not get us there! In Startup Life Brad and Amy write about "Lack of Diversity" in startups and believe that in 20 years, the gender ratio would be equal. Thats realistic. But it should also make us wonder – why so long? Why can't we do better? Do more faster? And what are we missing by accepting the status quo?
2) Our brains become ossified: At least, mine has. Otherwise I would have stopped to ask the same question Brad did? We reached out to a number of women (Startup CEOs and VCs alike) to find out more on this lack of diversity. Cindy Padnos of Illuminate Ventures told us a fascinating story of how, while serving on a startup board, the question of adding a new board member came up. This was a male board + Cindy being the lone woman. Several candidates were proposed. Cindy recommended the name of a woman, who by far, was the most qualified. The rest of the board members readily accepted the recommendation. Cindy pointed out that "It was more of a top-of-the-mind issue – everyone readily agreed to bring her on, but hadn't thought about her." The other board members even knew her. But its kinda like the book cover design – till Brad pointed out, I thought the cover was fine.  We see this in society on a number of different levels – its not necessarily by design, but by subconscious patterns of generational behavior.  Do you think a women can play a trombone?
3) The heartbreaking story of Abbie Conant: Abbie Conant applied for the position of a trombonist at the Munich Philharmonic.  Candidates auditioned behind a screen – a blind audition — and she was judged the best amongst 32 men.  When she stepped out from behind the screen, the judges were shocked – a woman? Then begins her ordeal. They suddenly felt she did not have enough physical strength. Or nerves. Or empathy. She could not play because she did not have enough lung capacity. But Abbie Conant was a true fighter. Thirteen years after she entered the orchestra with a blind audition, the German courts ruled that Ms. Conant be placed in the same pay and seniority group as all of her male solo-wind colleagues. Read her heartbreaking story here. And now ask yourself, what if Abbie was your mother? Your wife or daughter? Would this all-male ossified behavior – women cannot play trombones — make you mad? If we dont watch our patterns, we wont progress.
4) The business case for diversity: There is plenty of data for publicly traded companies that show how women make boards better. "Gender Diversity and Performance" – a report released by Credit Suisse (Aug 2012) shows some interesting data.  In an analysis of 2360 companies using over 14,000 data points,  publicly traded companies with more than three women on the board, had a market cap 3X higher than those with no women. What does that say about value of women? Three times smarter ? Return on Equity is 4% higher when you had at least one women on the board. Debt was lower….no matter which index you used, the business case is evident. Granted its with larger / public companies and but its hard to argue that such benefits cannot be seen with startups. Diversity of thought, experience, intellectual horsepower counts. Yet it starts with our ossified thinking – the data is there but we need to break our own patterns. We need to try harder.
5) The Yin and the Yang:  Wendy Lea, CEO of GetSatisfaction says, "Its a sign of an evolved CEO who balances out the yin and the yang. At the end of the day, we are talking about the feminine energy and masculine energy – how these two can help the startup grow and become successful." Indeed, the emotional side and the analytical side are equally important. But at times, an all male board can become self congratulatory. Lucy Sanders, Founder of National Center for Women in Technology (NCWIT) has been on several boards and reminds that "its about performance at all times yet women can raise some issues quickly." Lucy pointed out a board situation where in an all-male board cast, the VP of Sales continued to miss his targets. Yet he doled out great punchlines and smooth talk – the board bought it all along till Lucy raised her hand. (She was the solo woman on that board). That VP of Sales was ultimately fired – that action may have saved the company.
In summary, its upon all of us to make a conscious effort to improve the diversity ratio – we need comptent people to help entrepreneurs. No compromises there – but we need to make a direct, thoughtful effort to attract board members of diverse backgrounds. And we need to prove Brad wrong that it will take 20 years to change the ratio. It took Abbie Conant only 13 years, after all, to fight those hardscrabble German philharmonic dudes.
Guest Post By Tom Nastas – Scaling up Innovation – (VC, Mentor, Blogger)
Tom Nastas a 25 year VC veteran in US, int'l and emerging markets wrote a series for Startup Rev on the 'spark' which sparked the startup of Russia and how the development of start-up communities in emerging markets are shaped much more by the cultures of risk vs. what we investors and entrepreneurs face in the USA.  An interesting read, below are the individual posts and content for each one.
In Part V, subjects discussed:
1.)   For Entrepreneurs—What are You Selling to Investors?
2.)   For Investors—Let's Be Realistic
3.)   For Governments/Development Finance Institutions—Atypical Leadership Needed
4.)   Concluding Remarks
5.)   My Next Blog Series—Mobilize Local Capital to Finance Your Dreams
6.)   About Me
7.)   Links: Evolution of Runet (Russia Internet) & the Russia Tech Scene
Last time in Part IV, the Quest for Growth, I discussed:
1.)   Clonentrepreneurship or Alternative Paths to the Start-up of Start-up Communities?
2.)   Change the Culture & Amazing Things Happen
Read Part IV here.
The 'take-away from Part IV.
Clonentrepreneurs sensitize local investors to the rewards of investing in technology since clones match the behavior of local investors to risk. As results are achieved and money is made by all, investors open up to new investment opportunities a bit more adventuresome and innovative—disruptive vs. cloning.
Cloning and Clonentrepreneurship is one strategy to impact the DNA of local investors in emerging countries to spark the startup of start-up communities, but of course others exist.
What are the other actions which each you can take to achieve your objectives and fuel the startup of start-up communities?
For Entrepreneurs—What Are You Selling to Investors?
Entrepreneurs raising money too often attempt to shape investor risk behavior to their investment opportunity. Instead, shape your business model to match the needs of not only your customers but investors too.  Think creatively to find the solution which your customers will pay for—no matter how little the revenue is per customer—to craft your business model to match investors' DNA to risk.  Design your business model and its execution to systematically attack each of their fears to early stage tech deals.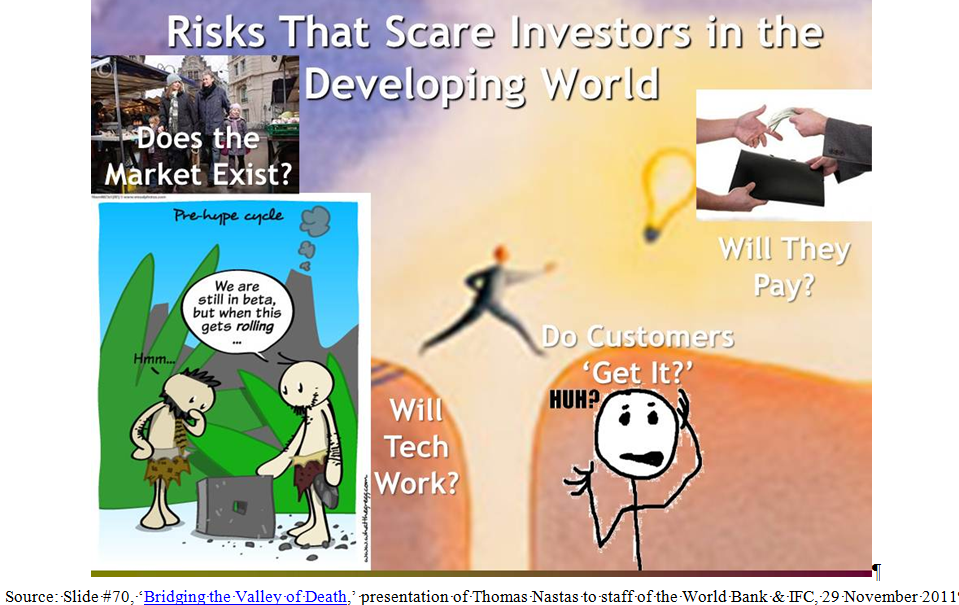 Once you have this business model executed with paying customers, approach investors by 'selling risk, then opportunity,' i.e., demonstrate how you've eliminated risk in each of the four categories to prove your great investment opportunity. Once you raise money, execute yes but also pay forward in your start-up community; be the role model to other entrepreneurs, teach/mentor them in the solutions which you executed to overcome the fears of local investors in emerging markets.
For Local Investors—Let's Be Realistic
Rarely will Western clones match the big returns as your investments in telecomm, real estate, construction, food/beverages, fast moving consumer goods, wholesaling and retailing have performed.  Yet as the economy in your country progresses and incomes grow, populations and enterprises open their pocketbooks to products and services which better match changing needs.
In the Chinese online travel industry for example, Ctrip and eLong have millions of registered users. Entrepreneurs seeking money to compete against them is risky and uncertain; however opportunities exist for unorthodox business models. For example, Chinese company Qunar is a travel search engine for online travel services. It aggregates travel information like air tickets, hotels and holiday offerings so Chinese consumers can make better and more informed travel decisions. Qunar serves the evolving needs of consumers and achieves success by approaching the market differently by making competitors—its partners.
Tell entrepreneurs your needs for business models which generate revenues in the immediate term; postpone your demands for immediate profits and cash distributions. Be creative in deal structuring and flexible to valuations since tech business models scale better across customers and geographies to justify higher prices paid vs. investments in brick and mortar.
Structure the investment agreement to align and incentivize entrepreneurs to your attitudes and behaviors to risk.  Oh, how does that work? An example:
American investor financings typically include an equity option plan for founders and employees.  In some emerging countries, legislation permits the issuing of equity options to management of start-ups. When permissible, distribute equity shares based on revenues realized vs. traditional metrics like length of time served in the company or # of users engaged. If legislation does not permit this action, structure the investment agreement as equity earn-ins held in escrow with shares issued when agreed-upon metrics are achieved.
For Governments/Development Finance Institutions—Atypical Leadership Needed
Governments and their finance institutions conceive venture initiatives to catalyze venture funds, to finance the startup of start-up communities.  Frequently these funds are modeled to the program called Yozma, the Israel Government's fund-of?funds.
Yozma was capitalized with $100 million; $80 million which financed new VC funds with $20 million for direct investment into Israeli tech SMEs.  It invested $8 million into a private VC fund with a minimum of $12 million/fund invested by Israeli and foreign venture capitalists. Yozma financed ten VC funds with a total capitalization exceeding $200 million. These funds went on to finance innovative companies and spur the development of the high tech SME and VC industry in Israel, where one did not exist before. Fast forward 10 years and the 10 funds supported by Yozma were managing over $3+billion with the VC industry in Israel managing $10+billion.
Yozma-type schemes offer economic incentives to induce investment and build learning experiences in seed and early stage tech investing such as:
1.)   Commit up to 49% of the capital to the creation of a new VC fund
2.)   Offer preferential returns to investors
3.)   Take 1st losses on failed investments
4.)   Cap financial returns to the Government so as to boost profits to investors
5.)   Subsidize management fees &/or pay the costs of investment due diligence
6.)   Allow private investors to 'buy-out' the Government's equity, usually within the 1st five years of fund operation, at cost + a bank interest rate of return
Yozma worked exceedingly well in Israel and a few industrial nations.[1]  But results in China, Russia, Chile, and other emerging countries has not been so spectacular; local investors didn't respond in the #s or volume of investments in the seed and early stage sector as expected and targeted by sponsoring governments.[2]
Hmmmm. Reality sets-in as staffers scramble for new solutions and a chair before the music stops. "Let's try something different."
When domestic capital does not change its risk behavior to seed/early stage tech, government staffers work vigorously to create a new class of investor—angels—since their risk behavior better matches the profile of entrepreneurial ventures. While angel investors are welcome in all countries, developing this community takes years to accomplish with multiple false starts and entrepreneurs seeking money now going unfunded.
"Hmmmm—let's rethink what the initiatives should be."
Plenty of money exists in the pocketbooks of local investors in emerging markets to finance start-ups for a start-up community to emerge.  What's required is the unlocking and mobilizing of local capital for investment in technology, 1st time entrepreneurs and early stage tech SMEs. Certainly encouraging a cloning strategy in the entrepreneurial community is one solution to unleashing local capital as the successes of Russian clonentrepreneurs proved.
Another solution is to think forward—design venture schemes which better match local investors' behavior to risk and the mentoring of local investors in early stage tech investment. Include in this mentoring 'show & tell' sessions of other financing solutions: royalty based or technology performance financing schemes, i.e., capital invested in technology SMEs with investment returns generated from the cost savings and/or revenue enhancement earned by customers.
What else might you do, say with founders and management teams?
Organize a mentoring program; get them the mentors they need to 'shape' early stage tech business models to the risk attitudes & behaviors of local investors + 'sell risk, then opportunity.' Until investors can understand and 'buy' the risk in start-ups & early stage SMEs in the emerging markets, little capital will flow to them.
But what can you do if you seek to do something more ambitious, i.e., generate knowledge creation to disrupt industries and attract local investors for the needed finance?  Deal flow funds are one solution to attack both needs.
Deal flow funds finance entrepreneurs and SMEs executing to a single technology, product or service platform, technical challenges that require new thinking in science and engineering to accomplish.  What might be an example of technical challenges in need of solutions?  Take a look at these slides which tell this story.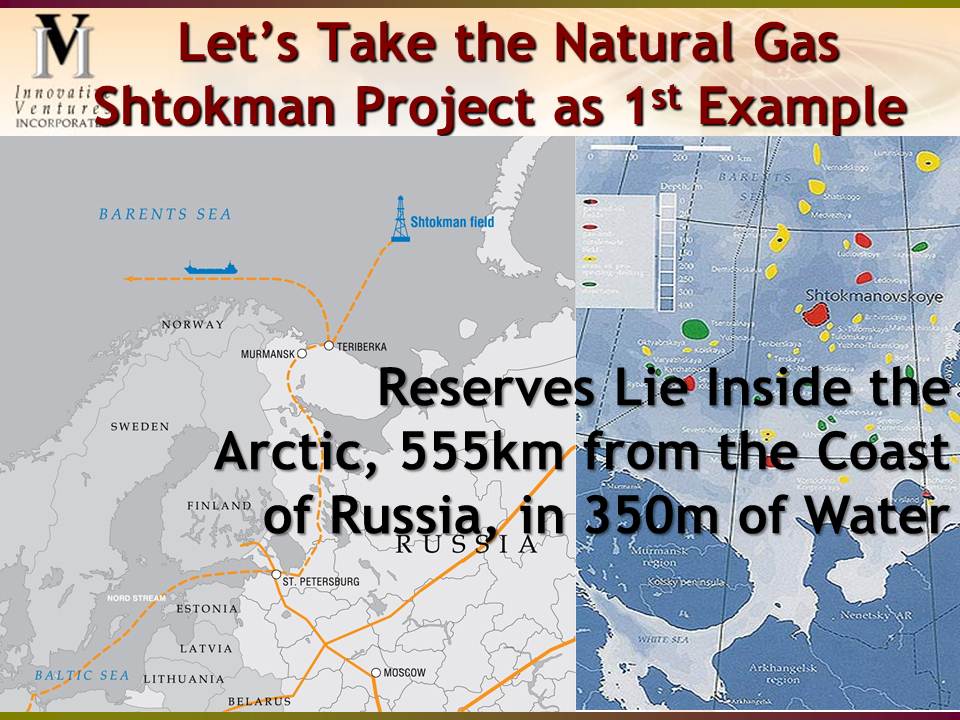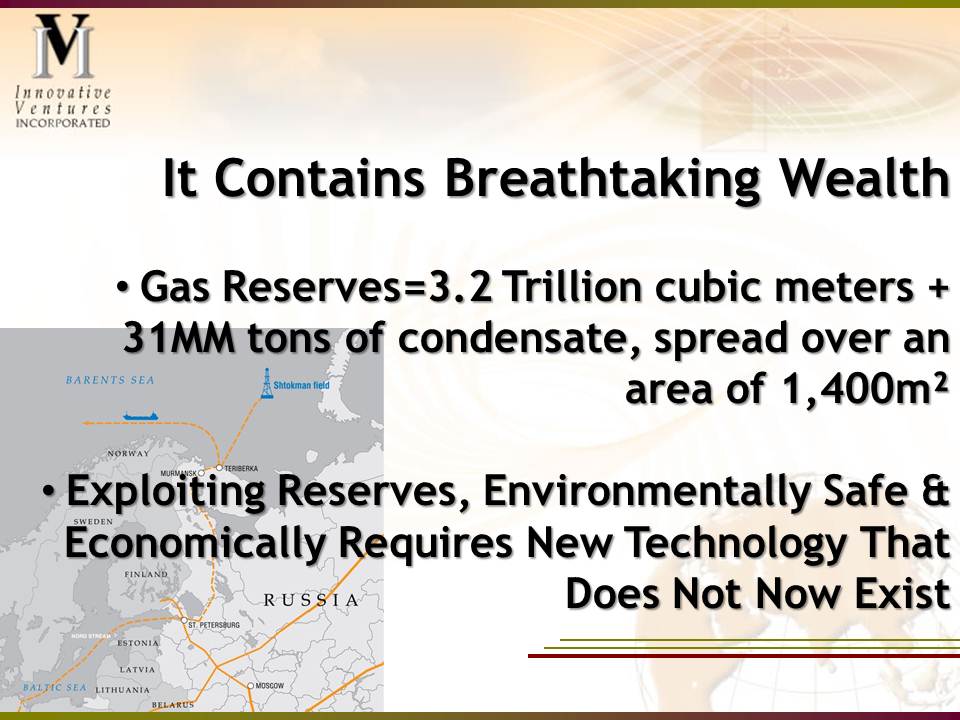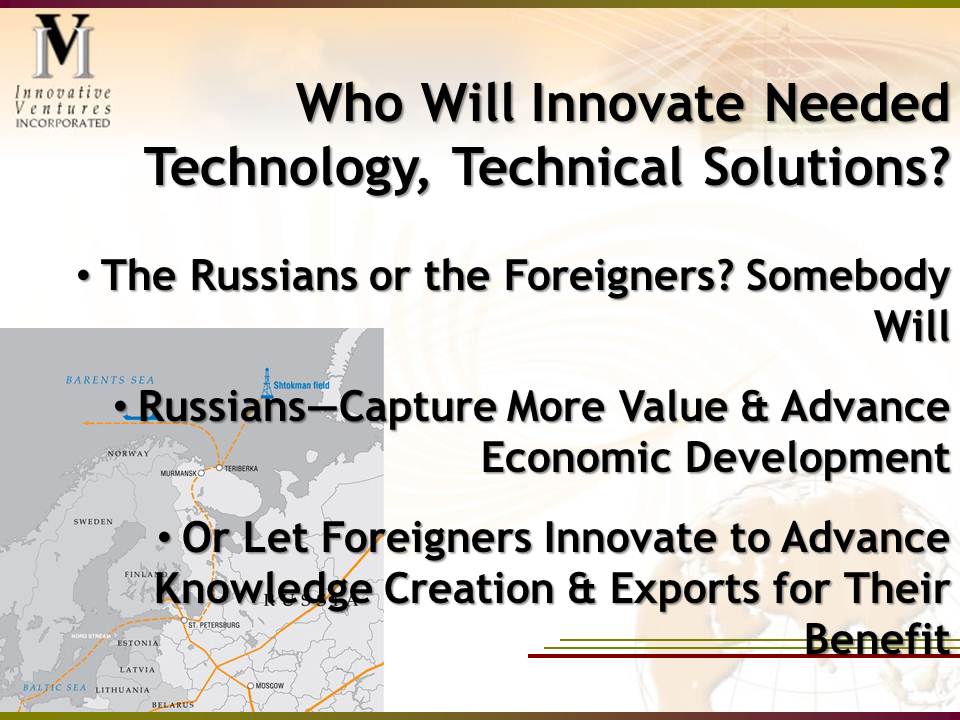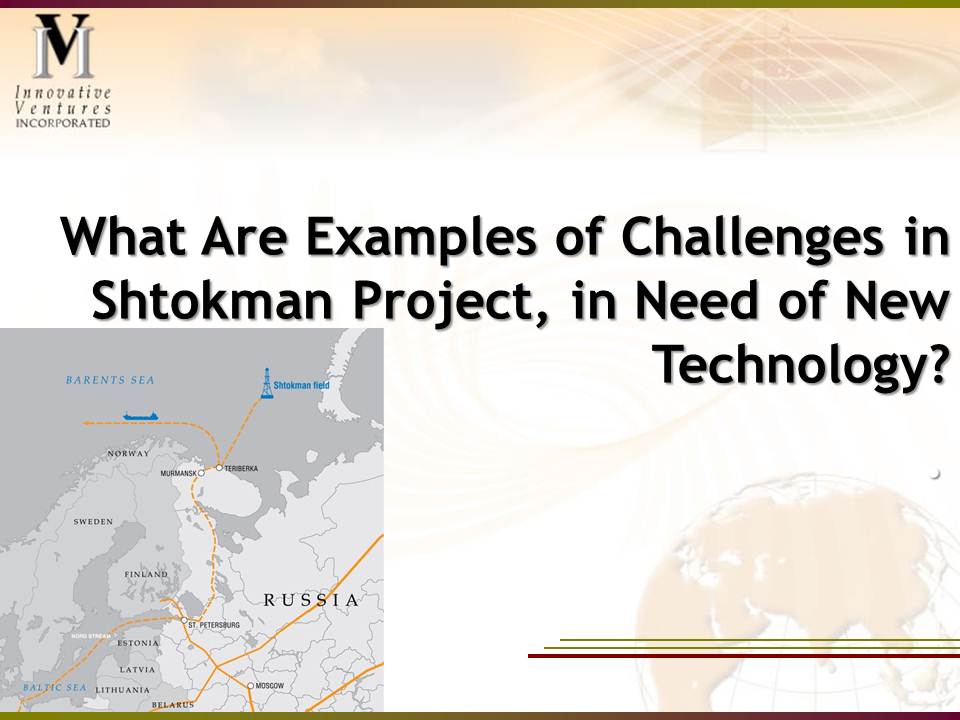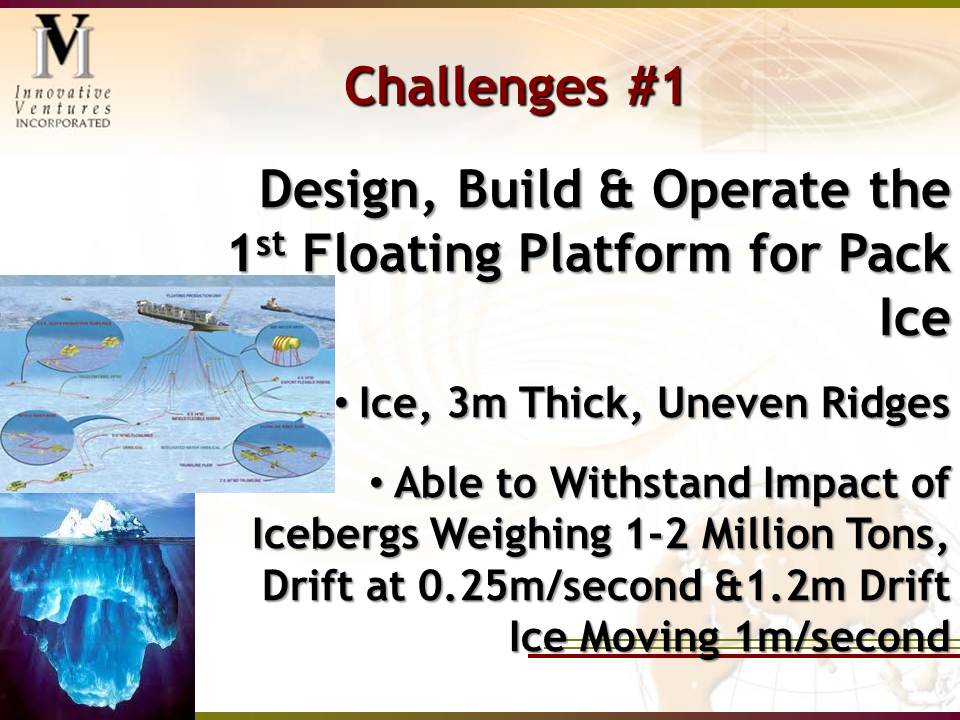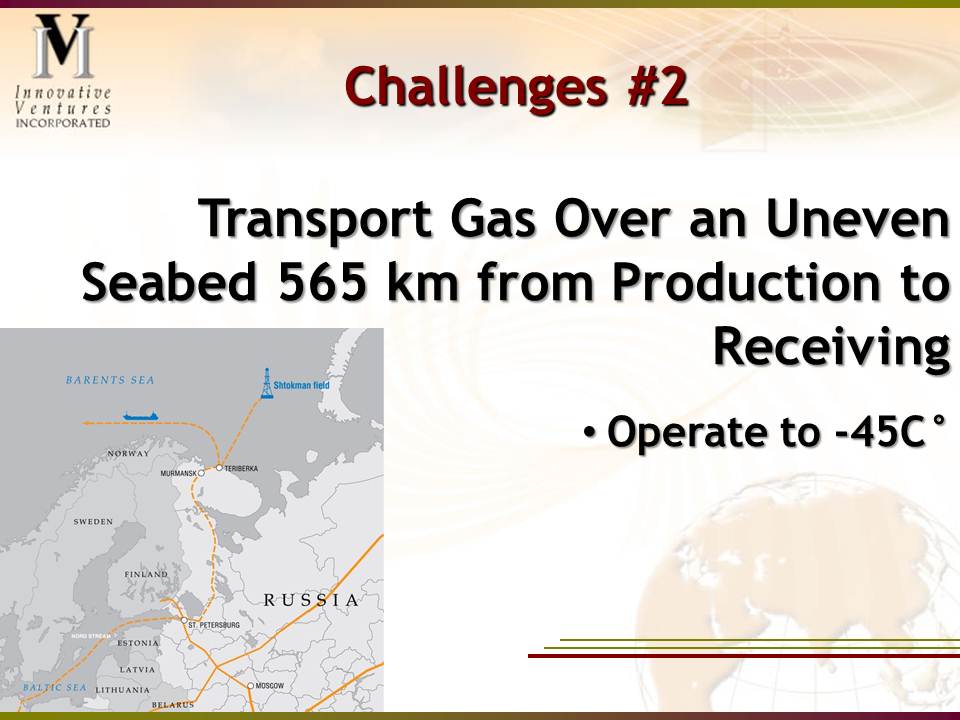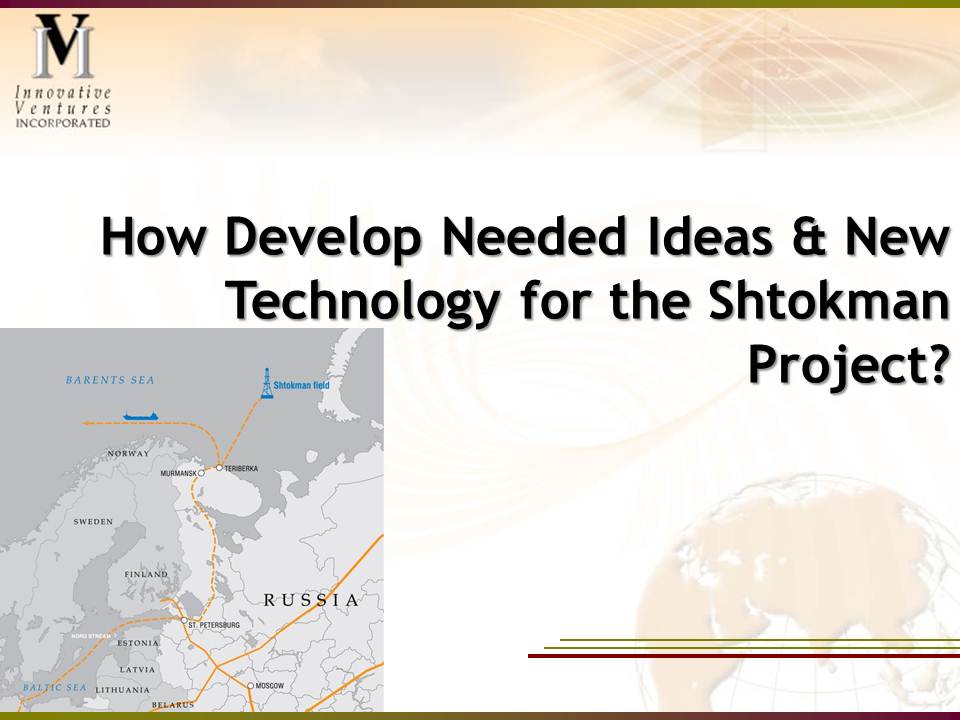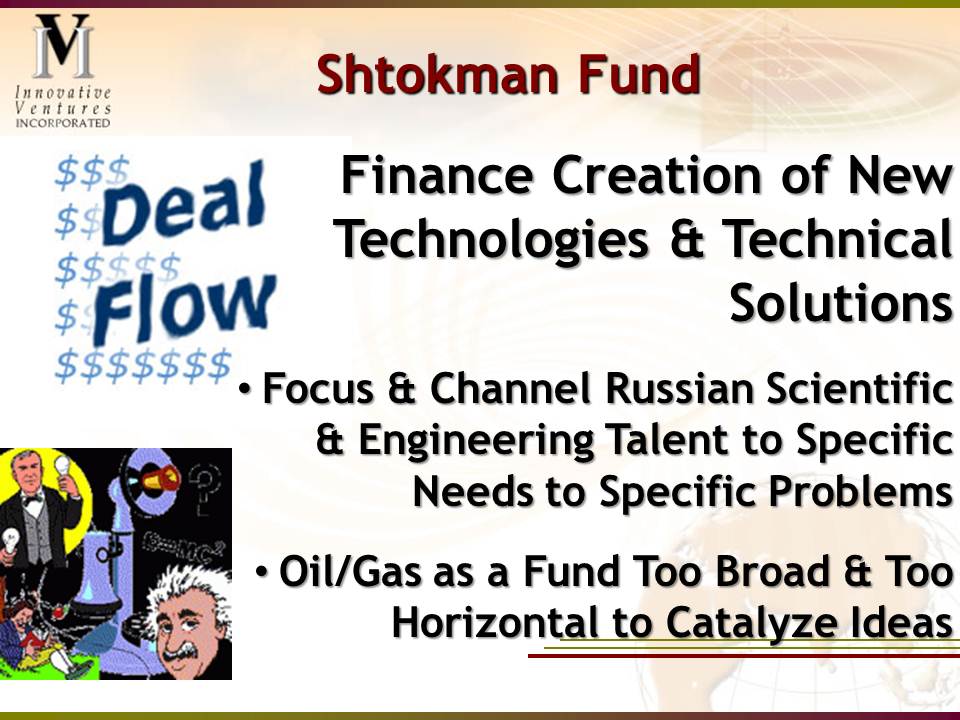 A 'deal flow' fund finances technology development and commercialization.  And in Russia for example, development of the Shtokman field is a national priority of the Russian Government, not only because of its wealth potential but also the promise of new economic prosperity to the Russia Far North.  The linking of technology to a country's national priority helps assure local financiers that innovators deploying the tech have a market and paying customers.  It's this matching of tech solutions to customers which harmonize the risk behavior of local investors to the risks of start-ups and early stage SMEs.
Concluding Remarks
Emerging markets face huge obstacles in finding talent, capital, knowledge, and yes, the business models which match the risk appetite of local investors.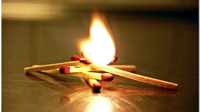 Clones are one solution to spark the startup of a start-up community since they generate the revenues which local investors demand as a precondition for investment.  As Clonentrepreneurs achieve success, it encourages others to try entrepreneurship too.  Some are a bit more venturesome and launch improvements to models cloned from the West.  Others do something different and inject their own notions of creativity by innovating new solutions layered on top of Western platforms like Russian beta-stage start-up ClipClock is doing to YouTube or IVI.ru is doing in the Russian video streaming industry.
More entrepreneurs driving business and economic growth, irrespective of the business model or the platform technology. We all want more investment, more initiative and more conversation with more saying "I can do that" and "I can invest too." Such actions generate the growth, the economic opportunities for citizens, and the prosperity that all countries, regions, cities and towns desperately seek.
My next Blog Series: Mobilize Local Capital to Finance Your Dreams
This is one of the topics I mentored 80 entrepreneurs from 36 countries—at Singularity University, located in the heart of Silicon Valley.  These entrepreneurs learned about exponential technologies to solve global challenges, and my job was to work with them—selecting ideas, developing and shaping business models to investors' behavior to risk.
I was one of approximately 16 or so team project advisors selected from around the world to mentor these entrepreneurs at Singularity University, created by x-Prize Foundationfounder/CEO Peter Diamandis and inventor, entrepreneur and futurist Ray Kurzweil.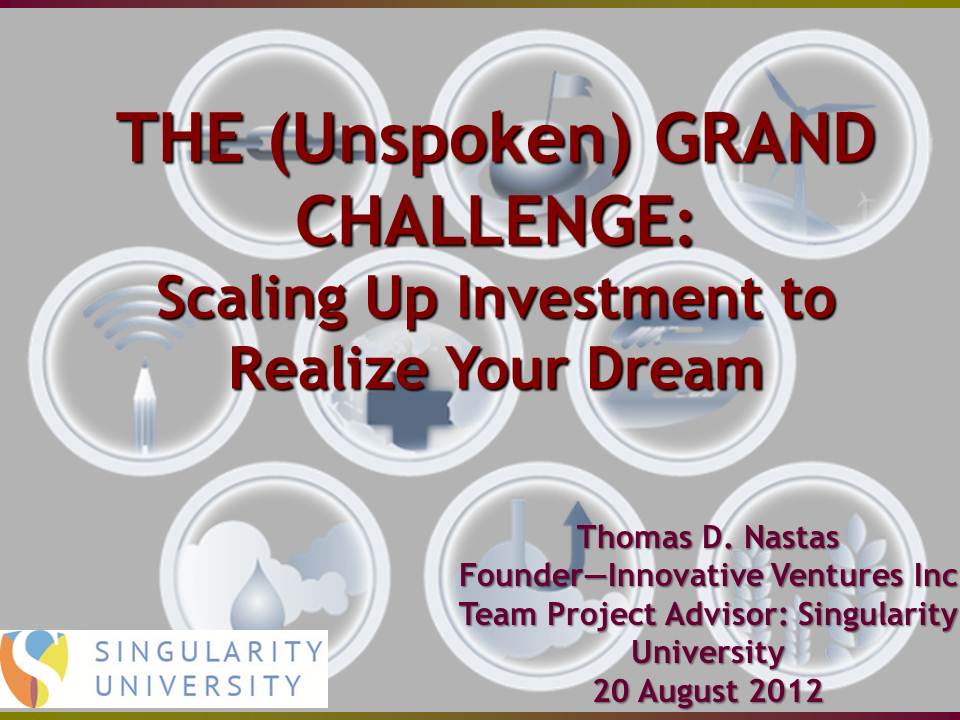 Till then, be well and be lucky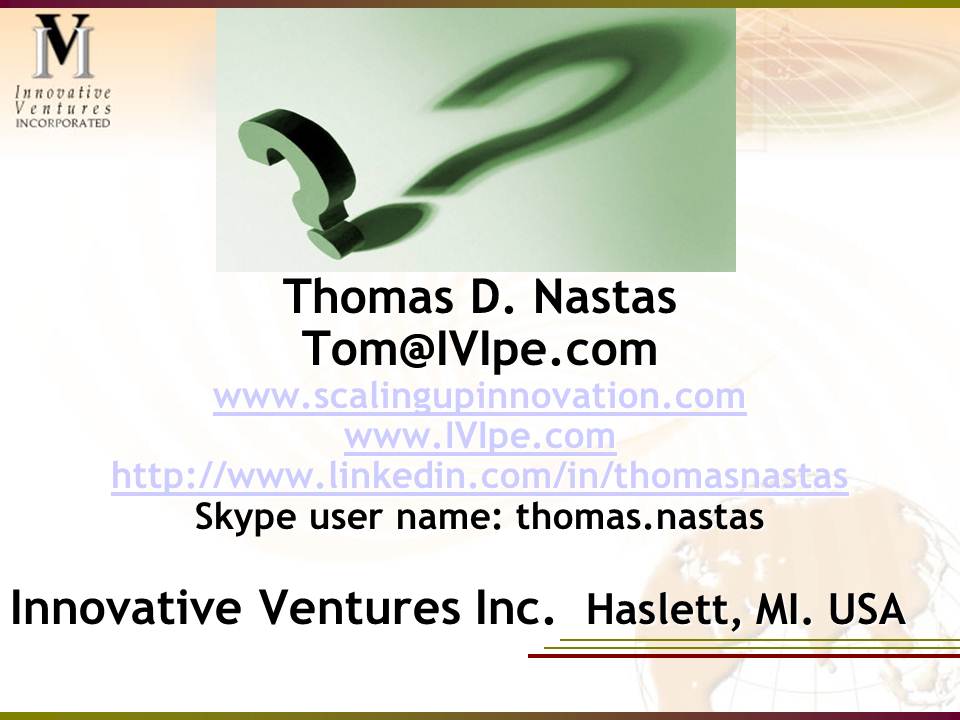 ---
[1] For explanation why Yozma worked great in Israel and not so well in emerging countries, see 'The GoForward Plan to Scaling Up Innovation, page 4 (English). For my Russian readers, go to 'The GoForward Plan to Scaling Up Innovation,' by Thomas D. Nastas, June/July 2007, Russian edition, Harvard Business Review.  Hungarian readers go to October 2007 'Scaling-Up the Innovation Ecosystem,' Hungarian edition, Harvard Business Review; Sept. 200. Spanish readers go to 'Innovation for Growth,' Latin America edition, Harvard Business Review
[2] For explanation, how local investors in emerging market typically behave-invest, when managing Yozma-type schemes, see slides 50-68, 'Bridging the Valley of Death,' presentation of Thomas Nastas to staff of the World Bank & IFC, 29 November 2011
About Me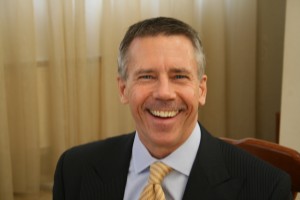 I am a venture and private equity investor since 1986, financing university tech in Michigan with liquidity events including Neogen (NEOG: NASDAQ), AISI Inc. (acquired by ESI, ESIO: NASDAQ, USA) & Personal Bibliographic Systems (acquired by Thompson Financial, NYSE: TRI) as examples.  An entrepreneur myself, I left Michigan in 1992, created int'l and emerging market funds in Africa, Canada, Europe, Kazakhstan and Russia, for ROI & economic development, i.e., >$300 million invested to advance entrepreneurship, innovation and growth in int'l and emerging market countries.  I am past/current Independent Director, Board of Directors of eighteen (18) companies over the past 25 years, USA & international enterprises.
I can work with you in four ways.
1. As an investor advising LPs and GPs in your country for emerging market investment, create venture initiatives (+ raise capital). I invested my own capital + established and managed cash flow, venture, private equity and fund-of-funds as shown in the 1st picture below. The 2nd picture shows the deal structures and strategies executed to localize money for investment in each country and to match local investors' behavior to risk.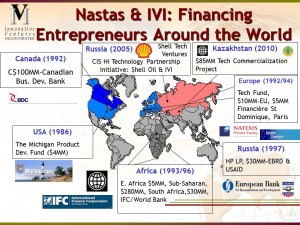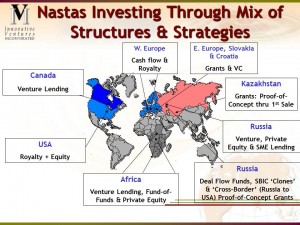 2.  As an advisor to Governments & development finance institutions.
Design & execute venture initiatives: My clients include Development Bank of Canada, European Commission, European Bank of Reconstruction & Development, IFC/World Bank, Russian Venture Company, Govts of Slovakia, Croatia and the US Govt's USAID—create, startup, finance & execute:

Venture capital funds
Venture lending funds
Private equity funds
Royalty based & cash flow funds
Fund-of-funds

Design & execute grant schemes—to advance tech dev. thru commercialization:  With six other directors, I manage the $85 million technology commercialization project in Kazakhstan, making grants to finance and advance science from proof-of-concept thru 1stcommercialization.

We established the policies/procedures for grant investment, criteria, tender & selection process including all documentation for program execution
Selected & committed $22.5 million to 21 development stage SMEs and R&D groups in 2011 & 2012, average grant ?$1MM
I lead the creation of 1st technology commercialization office in Kazakhstan, to transfer Kazakhstan tech to market.  I established strategy, programs, key performance metrics, deliverables and all tasks for commercialization & execution-budget is $2.8 million, staffing of four international experts + five Kazaks.

Design & execute int'l—cross border tech transfer & commercialization initiatives:  Conceive programs and connect—Russian Corporation of Nanotechnology (Rusnano)—& int'l organizations

Created project to establish technology proof-of-concept tech dev. & commercialization program between Rusnano & tech transfer offices of US universities (e.g., Colorado, Utah & Michigan). I established the trust and confidence in the parties to negotiate & secure signed agreements
3.  As an entrepreneur mentoring founders & entrepreneurs as an Independent Director, member of the Board of Directors or member of the Advisory Committee.  I established legal entities, hired & managed staff in Africa, Canada, Europe, Kazakhstan and Russia, all costs of market entry and operation financed by me. Living, working and      investing in these counties—paying the bills too—developed in me the experiences to counsel:
Founders of mid-size companies, revenues to $100 million, solutions to integrate their firms into global markets, harmonize products/services & the organization for this global expansion, raise int'l capital and build the 2nd tier layer of management for execution
Entrepreneurs of early stage companies, my contributions include conceive/negotiate partnerships for 1st commercialization, raise 2nd round VC financing, 'shape' business models to the risk profile and behavior of local money in the country, mentor/counsel management team in growth & development
My other contributions to global entrepreneurship: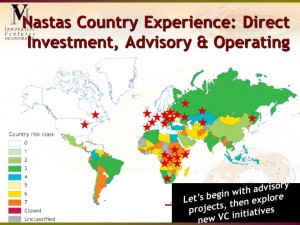 4.  As a thought leader & advocate of VC, entrepreneurship and innovation to solve global challenges, I conceive and deliver keynote talks and Master Classes to engage stakeholders with the ability, interest and resources to finance technology commercialization and early stage venture capital.  View my publictions which spread ideas—solutions to create more investment, innovation and entrepreneurship.
Let's engage on how to make an impact, make money and have fun. Contact me atTom@IVIpe.com. Learn more at Scaling Up Innovation.
Links: Evolution of Runet (Russia Internet) & the Russia Tech Scene
Top 10 Web Start-up CEOs in Russia, 2011
Top 10 Russian Web Startups of 2011
Top 30 Russian Internet Companies (Forbes, 2011)
Top 10 Internet Entrepreneurs, 2009
Top 10 Internet CEOs in Russia
Top 10 Russian Venture Capital Internet Investors 2009
Top 10 Russian Web Startups, 2008
Top 10 Russian Web Apps & Sites, 2007
http://www.eddy.lt/2011/12/10-must-know-facts-about-russian.html#!/2011/12/10-must-know-facts-about-russian.html
http://goaleurope.com/2012/04/21/eastern-europe-weekly-news-from-eastern-europe-baltics-russia-ukraine-and-poland/
http://thenextweb.com/russia/2012/04/19/skolkovo-stimulating-russias-it-industry-by-spending-stupid-money-smartly/
http://thenextweb.com/russia/2012/04/20/already-europes-largest-internet-market-and-still-growing-astoundingly-fast-russia-by-the-numbers/
http://www.marchmontnews.com/Archive/News/18636.html
Guest Post By Tom Nastas – Scaling up Innovation – (VC, Mentor, Blogger)
Tom Nastas a 25 year VC veteran in US, int'l and emerging markets wrote a series for Startup Rev on the 'spark' which sparked the startup of Russia and how the development of start-up communities in emerging markets are shaped much more by the cultures of risk vs. what we investors and entrepreneurs face in the USA.  An interesting read, below are the individual posts and content for each one.
Subjects in this Part IV post include:
1.)   Clonentrepreneurship or Alternative Paths to the Startup of Start-up Communities?
2.)   Change the Culture & Amazing Things Happen
In Part III, the Power of Clones, subjects presented:
1.)   Drive Growth and Innovation in the Supply Chain
2.)   Sidestep the Obstacles that Impede Scaling Up
3.)   Controversy of Clonentrepreneurship: Cloning the Idea or Hatching a Start-Up?
4.)   The Spread of Clonentrepreneurship
Read Part III.
Read Part II
Read Part I
Read Introduction (to the series)
The 'take-away from Part III.
Cloning and Clonentrepreneurship is belittled since many criticize it as being incremental and not creative, a waste of time, money and energy.  While cloning is neither gamechanging nor disruptive, the results it achieves to drive forward more entrepreneurship and investment validates its contribution to the startup of start-up communities around the world.
Given the contributions of clones to spark the startup of start-up communities, are they a panacea to growth? Do alternatives exist in the quest for growth? And what lessons can we apply from clones and Clonentrepreneurship to impact investor DNA for more seed and early stage investment?
Clonentrepreneurship or Alternative Paths to the Startup of Start-up Communities?
Brazil and China like Russia are large population countries with a growing middle class that is ripe for more consumer-facing clones, clonentrepreneurs and Clonentrepreneurship.  Certainly the selective transfer of some cloned business models to low-medium population countries like Costa Rica, Chile, Argentina, Kenya and Ghana have merit as consumers in these countries seek products and services to save money, to have more choice, to enrich the quality and joy in their lives with clonentrepreneurs, investors and Government all benefiting.
Clones are not the same. The ones with the best chances of survival in the emerging markets against the innovator globalizing are those which require localization for the domestic economy and not just for language(s) spoken: but product sourcing, logistics, payment systems, merchandising and other business practices to satisfy conditions on the ground and to comply with the huge number of local regulations that impact how e-commerce is transacted.[1]
Cloning Western business models is only one direction for entrepreneurs and investors to pursue for profit.  Israeli entrepreneurs and venture investors took a different approach to create a start-up nation through the development and commercialization of disruptive and gamechanging technology for global markets, directly primary toward enterprises.
The Israeli Government pushed success forward through a variety of initiatives which sped Israeli tech to market including but not limited to the transfer of military technology to the private sector and its open door policy to immigrants (many were scientists from the Soviet Union). Other success factors include an Israeli industrial policy that funded R&D to create deal flow and the unplanned creation of entrepreneurs through military training in the '8–200' intelligence unit.[2]
Government policy makers and their sovereign wealth funds can catalyze the start-up communities in other ways.  Riches earned from oil and other natural resources funded Russian initiatives like the $10 billion Russian Corporation of Nanotechnology, the $1 billion dollar fund-of-funds called the Russian Venture Company and the Russian Government's multi-billion dollar Skolkovo program—to seed development of gamechanging tech, investment and the creation of a new set of entrepreneurs.
While small population countries may not have the sovereign wealth of oil, natural assets like Costa Rico's location to America creates advantages for its ICT entrepreneurs to scale its start-up community.  Costa Rican entrepreneur Manrique Ulloa Steinvorth of ieSoft created a consortium of companies (IT Innovation Group) to expand access to the US; "Instead of competing for the same opportunities, we get together and offer a whole solution. If a project needs ten developers and I only have five, I will search within the consortium for a partner that can provide the other five, and the company that brings the project will manage the project" he says.[3]
Croatia is another small country with ambitions for more start-up communities.  Its location on the Mediterranean is an ideal spot to transform selected coastline into logistics, transportation and warehousing tech start-up centers to serve Central and East Europe.[4] Investors and the Croatian Government might collaborate to co-create 'deal flow funds' which invest in the technologies required to transform this underutilized asset into wealth.[5]
Entrepreneurs and venture investors ask me "Which path should we choose; the road of disruptive technology or Clonentrepreneurship (or something in between)?"
My answer is that it's not an 'either…or' decision.  It's a combination of all with the percentage blend influenced by:
1.)   Your natural and technology assets
2.)   The sources and amount of money you have or can raise for the execution of your business model
3.)   The types of investors in your country, their sources of capital and their behavior to risk
4.)   The time, patience and determination you and your investors have to continue in the face of disappointment, risk, false starts, failure and forces working for your demise.
As you execute, your specialties and expertise will shine to guide your footsteps forward.
In Russia and in other countries clonentrepreneurs are sensitizing local investors to the rewards and risks of investing in technology.  Over time expect that some investors whom financed clones will develop the confidence and risk appetite to selectively invest in technology that will be more innovative at first—disruptive later—vs. cloning.  These investors and entrepreneurs will be the ground-breakers that establish the precedence for investment in new thinking thereby attracting co-investors from around the world to their home country.
One never knows:  Perhaps the next Facebook-type success is hatching right now in some Russian laboratory?
Change the Culture & Amazing Things Happen
Is this actually possible?  Change the culture—investors' DNA—for more seed and early stage investment, leading to the startup of start-up communities?
Yes it is, but to change the culture one must first impact it, with investors earning money to their requirements and tolerance for risk.
As I detailed in Part I, Russian entrepreneurs deployed business models which generated quick revenues after their market launch, solutions which matched the behavior and attitudes of Russia investors to risk.  Impacting the culture came about not through grand ambitions to create gamechanging technology but practical steps to generate immediate revenues and execute quickly.
So what are the small but meaningful steps you can take to impact the culture for more investment, entrepreneurship and innovation?
For Next Time, Part V:  Scaling Up Investment for More—Impact & Outcomes
In Part V, I answer this question and suggest initiatives for entrepreneurs, investors, Government staffers and investment officers at development finance institutions to 'Scale Up Investment for More—Impact and Outcomes.'
Comments, opinions and questions are welcome here or send directly to me atTom@IVIpe.com
Be well and be lucky.
Tom Nastas
---
LaunchUp.org is Barn Raising for Entrepreneurs.™ We facilitate dynamic and energetic monthly events filled with entrepreneurs, aspiring entrepreneurs, and startup junkies. We work hard to engage and leverage the existing ecosystem of entrepreneurship with our community focus. We provide help, resources, and support for risk takers, doers, and makers of things.
Entrepreneurs + Community + Energy < 90 mins = Awesomeness
LaunchUp #8
We'll be hosting our 8th Launch Up at the Historic Fifth Street School in Las Vegas on January 9th 2013. The lineup of speakers is spectacular and we're expecting a large crowd! You should arrive early because the first 300 people who arrive to the event will be given a copy of Brad Feld's new book "Startup Communities: Building an Entrepreneurial Ecosystem in Your City". Brad will be signing them before and after for anyone who would like to get their copy signed.
Amp Session: Brad Feld
In the Weeds: Jack Porter
Presenting Companies:
Downtown Podcast
Presenter: Dylan Jorgensen, Executive Producer/Host
Downtown Podcast is a weekly video podcast where host Dylan Jorgensen documents a citywide revitalization project unlike any other.  Built on a philosophy of engineered serendipity, Zappos.com CEO Tony Hsieh is betting big that this unique approach to rebuilding the physical structures and cultural glue of a once forgotten downtown Las Vegas will forever change the way we think about cities.
The host Dylan Jorgensen is CTO and Founder of TicketCake.com, the 7th company funded by the VegasTechFund, a branch of the Downtown Project's $350 million revitalization effort. Dylan brings locals and visitors in each Sunday to explore this exciting city-sized experiment.
DrinkBoard
Presenter: David Leibner, CEO / Founder
DrinkBoard enables mobile gifting for the hospitality industry. Our platform provides customers and merchants with the opportunity to enjoy and capitalize on one of our oldest societal traditions — gift giving. Our goal is to create a mobile gifting market place made up of the coolest and most distinguished bars, restaurants and hotels. The DrinkBoard platform differentiates itself from mobile payment and mobile couponing by supporting local merchants at the full retail price of their products and services. One of the biggest drivers of both hospitality business and gifting is special occasions and DrinkBoard is at their convergence, enabling a new type of gift giving and a new opportunity for hospitality merchants. With almost 1 million birthdays a day, over 100 million anniversaries a year, 3 million babies being born and millions of college graduations each year, DrinkBoard gives the world the ability for someone to say "congratulations buddy, this one is on me".
Our Events:
The format is pretty simple.
Clinics, consisting of:
For the hour before the main event at certain LaunchUp, we will have experts (Legal, Fundraising, Tech, Design, etc) available for free advice to entrepreneurs and their startups.
90 Minute Main Event, consisting of:
Amp Session. A Successful Entrepreneur will inspire us, motivate us, and probably make us cry.
In the Weeds. Dig into a specific startup topic at ground level: Taxes? Legal? Outsourcing? Sales? Marketing? Yep, Yep, Yep, Yep, Yep, and lots more Yep.
3 Startup Companies. 7 min presentation, 7 min Q&A. Community interaction and advice for these companies. See companies like these LaunchUp Alumni.
Barn Raising, consisting of:
Free Food. A man's (and a woman last we checked) gotta eat.
Corner Dives. Find one of the presenting startup companies logos on a wall, go to them. Meet them. Offer to help them. Energize them.
Networking. Until we get kicked out.
Come to LaunchUp#8. And keep coming. It'll be the funnest and most energetic night you'll spend about entrepreneurship.